Sixteen TT SYD are being manufactured at Toscotec's Massa Technology Lab.
Since its inauguration in 2016, this fully integrated plant has been operating at full capacity, implementing the entire production cycle of Toscotec's TT SYD, from metalworking, precision mechanical machining to thermal treatment and surface metallization, up to non-destructive tests and certifications.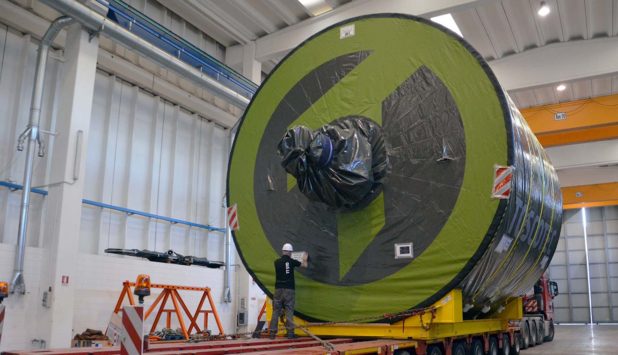 The sixteen TT SYD that are presently under construction feature different sizes, with diameters ranging from 3,650 mm to 6,705 mm and width from 3,100 to 6,050 mm. Toscotec has been manufacturing the world's largest diameter steel Yankee dryers and their demand has been steadily going up to this day: 50% of the TT SYD currently under construction have diameters from 18 to 22 ft.
In view of this, the strategic choice of the Technology Lab's location offers a clear logistical advantage, by ensuring that large diameter Yankees get easy access to the seaport for expedite shipping operations.
The market's demand for medium and large diameter TT SYD is far-reaching around the globe. The orders for these sixteen Yankee cylinders come from paper mills situated across four continents: Asia, North and South America, Europe and Africa, with Asia and the Americas together taking the lion's share.
Toscotec sustained operations in the manufacturing of TT SYD are testament to the success of Toscotec's design, including large diameter Yankees. Feedback from the first installations of 18 ft Yankees and of 22 ft Yankees have been of substantial improvements in drying efficiency, attracting paper mills to the opportunity of cost savings. Toscotec's global market share of steel Yankee dryers exceeds 60% and nearly all new steel Yankees currently installed in paper mills in Western Europe are Toscotec-supplied.
Parallel to the success of its manufacturing operations, Toscotec is relentlessly striving for new breakthroughs with its R&D division. Following the engineering of the second generation TT SYD in late 2013, with improved rib design and metallization, as well as increased thermal exchange, Toscotec's steel Yankee dryers are now looking into the future with their third generation's design, which will be presented later this year.