SCA planted over 1 million seedlings in Latvia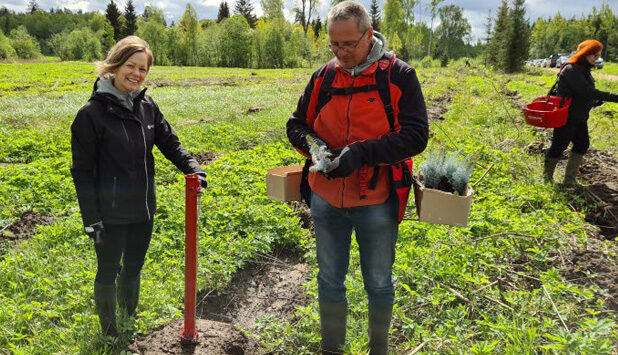 SCA's planting work in Latvia started in spring 2020, when SCA needed to move 100 00 seedlings from Estonia to Latvia. The plan ting continued in the autumn. This year, SCA has already planted over 800 000 seedlings.
"During one year we have plated over one million seedlings. Most of them are spruce seedlings from SCA, so called SuperPot which is a bigger seedling suitable for ground with a lot of grass. We have also planted some pine, birch and black alder, which we bought from other countries to get the right kind of seedlings," says Edgars Birks, department manager forestry, SCA in Latvia.
Overgrown agricultural land
The land in Latvia consist of a lot of overgrown agricultural land that is very fertile. Therefore it is very important to cut down the grass and bushes, so the seedling can grow.
"We plant in such soils that the best quality, where we know the trees will grow well. If that land is of poor quality we leave them for natural renewal, in fertile ground we will have spruce plantation where in 15 years we will get 150 cubic meters per hectare," says Edgars.
Afforestation of agricultural land, bush land or degraded forest stand is one of SCA's environmental targets in Latvia for 2021. "As forest is best in carbon sequestration, we are also doing a very good job for our planet," says Edgars.
Quality inspections
All planting work is carried out by local service providers. Since planting is the most important part of forestry work, SCA place great emphasis on the inspections of this work.
"If the seedlings is not planted properly, nothing will grow. The first three years in a seedling life is very intensive for us, since we move the grass, check how they have grown and protect the seedling animal damage. For the time being, it is difficult to say about the quality of previous years planting, because mostly was planted in the autumn 2020, and they beginning to grow this spring. We will know more about our plantings after this season," concludes Edgars.