SAEL rebuilds the Jagemberg Synchro 350-2800, at Reno De Medici – Santa Giustina (Italy)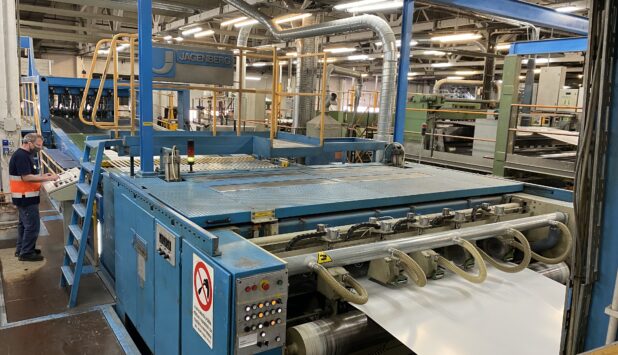 Another successful Jagemberg Sheeter rebuilding made by Sael, at Reno De Medici Santa Giustina Mill. As long as many electronical components were obsolete, and no longer available, this retrofitting was a must. The targets of this project were a new solid reliability of the machine, a long time spare parts availability and a powerful diagnostic tool for the operators – open source, user friendly and full of control options, especially.
To get the system easier, as much as offering further implementations steps, all the automation functions were updated by the replacement of the PLC S5 with a new S7 series, integration of the several sheeter technological functions into the PLC software vs. the obsolete, and closed, Simadyn-D and Phoenix devices; the obsolete Simadyn-D/Siemens sheeter management; the entire Supervisor using a new Siemens Touch-screen device, vs. the original Jagemberg operator panel located into a local PC; the Phoenix Interbus I/O with PLC ET200S standard modules and two old TKW ProfiNet Absolute encoders for the overlapping trolley and final beater carriage, supply and installation.
Moreover, supply and installations were carried out of three ProfiNet Tempsonic bars for slitters knives and forks vs. the obsolete Can bus; of two Festo pneumatic isles in replacement of the existing with Interbus interface; of a new DC bus mounted into a pre-assembled panel; of the old DC motors by AC motors and SAEL Drives – Inverters of the Intelliflex Platform One – for the cut unit section and Industry 4.0 management and data mining.
The old machine functions, originally managed by the S5 PLC and Simadyn-D, were implemented into the new S7 1500 PLC Siemens with added hardware to support the required performances.
Jagemberg Synchro 350-2800 Sheeter main characteristics:
– Nr. 2 Unwinder with automatic loading FAVALESSA management;
– Nr. 5 Slitters knives with automatic positioning;
– Nr. 1 Spacer belt;
– Nr. 1 Sheets reject system;
– Nr. 1 Impulsive suction box;
– Nr. 3 Slow overlapping slow belts;
– Nr. 1 Electrical stacker unit;
– Nr. 1 Roller conveyor pallet with empty pallet loading scraper.