Rebuilding of a Synchro Jagenberg at Burgo Group
Burgo Group possesses two SINCRO JAGENBERG of the last generation: at Sarego, and Toscolano Plants. The faults of the original drives, and the no longer availability of their spare parts, lighted the idea to quickly rebuild those machines.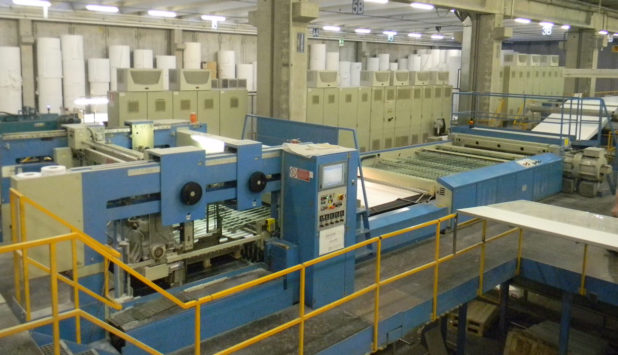 The competitiveness of the SAEL ONE drives – with their long-life insurance – pushed the changing of the whole existing drives. The sheeter control electrical cabinets have been modified and upgraded in two days and the production has been optimized achieving performances never got before.
SAEL approaches the market in a different way: the after sales department can repair any old equipment (no matters how old it is) and the R&D, continuously focused on the new technologies, improves the Drives with a full compatibility vs. the former versions as much as the existing systems. Moreover, SAEL can work on existing competitor equipments, offering full revamping / rebuilding and saving a lot of their parts – offering a great cost saving and value selling, in fact.
The mounting of the new drives into the original electrical cabinet was quick and efficient. In a very short time Sael changed the old drives, the DC-Bus – in phase off – and its capacitors: older than the others within the drives. Thanks to their own functions, the new SAEL ONE Drives allowed to remove many auxiliary analogical/digital boards originally used by the existing system.
Within one week – tests and settings included – the machine was ready to produce. Moreover, it was possible to fulfil an important paper mill need: to use the machine with one drive/motors in case of single fault.