Innovative spreader roll technology from Voith: Evostretch and Solarstretch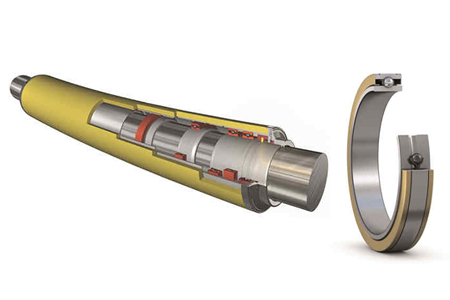 With the EvoStretch spreader roll, Voith has launched a new model at the start of the year that offers significantly longer service intervals than standard spreader rolls. The newly developed EvoStretch high-performance bearings feature one or two ceramic balls as well as the usual steel balls, giving each bearing a special self-repairing effect. The ceramic balls remove contaminants, smooth the contact surfaces and thus have an integrated polishing function. This 'self-healing effect', proven in close cooperation with a well-known ball bearing manufacturer, clearly slows bearing wear and substantially reduces servicing costs.
The StretchUp Service from Voith is the roll service tailored to spreader rolls. As part of the StretchUp Service, it is now possible to upgrade spreader rolls of all manufacturers to use the EvoStretch bearings. Handling the roll service through Voith's central service center in Laakirchen, Austria ensures short transport paths and delivery times and thus also saves costs.
Voith has now also successfully developed a further spreader roll component to increase service life: The market leader in high-performance roll covers made from polyurethane now also offers SolarStretch polyurethane sleeves for spreader rolls. SolarStretch features abrasion resistance that is twice as effective as standard rubber sleeves and can also be supplied in a variety of surface designs.
Increased abrasion resistance significantly extends service intervals and thus ensures continuous availability of the spreader rolls.