Valmet's investor website is the best of the Large Cap companies in Finland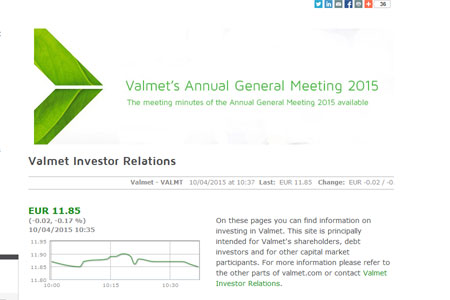 Valmet's investor website won first place in the 'Best investor website' contest, in the category of the Large Cap companies. The contest was arranged by The Finnish Foundation for Share Promotion and the Finnish Society of Financial Analysts. In the contest, the Finnish websites of the companies in Helsinki Stock Exchange were evaluated. Wärtsilä won second place and Kone third place in the Large Cap category.There were three categories based on the market value of the companies in the contest: Large Cap, Mid Cap and Small Cap. The members of the jury, led by Professor Jarmo Leppiniemi, represented different user groups searching for information for their investment decisions on investor websites. This year the evaluation focused on, among others, usability of the site, description of the field of business and introduction of growth strategy and profitability drivers.
"We are thankful for this recognition. Valmet's investor website is only 16 months old and we are improving it constantly. We are seeking for new ways to equally share information that interests investors. One example of this is our IR blog, in which interesting and current topics for investors are presented. In addition, our target is to offer more background information in video format", says Hanna-Maria Heikkinen, Vice President, Investor Relations.