Burgo Distribuzione: new website and new product selector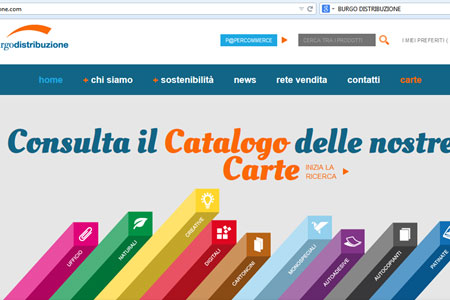 Burgo Distribuzione celebrates the beginning of the new year with a completely revamped website. The new release of www.burgodistribuzione.com is clearly and immediately the extraordinary variety of the products portfolio of the Company.
The catalog consists of nine different product families and it is easily accessible on personal computers, tablets and smartphones. An advanced and user-friendly product selector allows you to filter the range, easily combining the main features of the papers: quality, color, application, substance, certifications. Wherever they are and at any time, communication, publishing and printing professionals can quickly locate the paper, or set of papers, that suits their needs and click get access to the descriptive information and updated technical data sheets.
In addition, they can take advantage of the experience and the organization of Burgo Distribuzione which is close to each Italian typography with its network of 70 specialized sales persons and nine warehouses distributed throughout the national territory.
The website is responsive, then adapts automatically to the device while remaining clear and easy to navigate. The layout of the website is linear and rigorous to facilitate consultation and to better represent the know-how of Burgo Distribuzione, a leading distributor of paper products in Italy. At the same time, the wealth of colors convey the dynamism of the brand and the breadth of its offer, which includes the products of the leading international paper industry.