Alberta's Forest Industry: Investing In Communities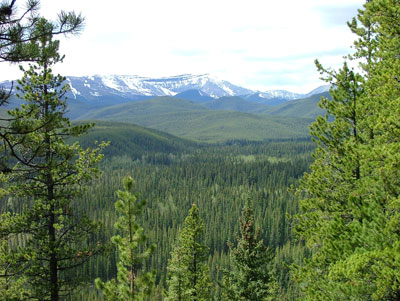 Recently, Alberta's forest industry celebrated the latest capital investment. Alberta Newsprint Company (ANC) has spent $74 million on a power plant at their facility. Recently completed, the project generates 65 megawatts of electricity, approximately half of what is required to run ANC's mill. ANC's project uses state-of-the-art technology, including 10 Caterpillar reciprocating engines that each produce 8700 horsepower.
This project reinforces a broader theme in Alberta's forest industry: the industry is willing to invest to stay competitive. Between 2011 and 2015, Alberta's forest companies will invest $1.5 billion in capital into facilities throughout the province. To put that into perspective, it's about $375 dollars for every person in Alberta.
One of the unique things about capital investments is that the bulk of the money stays in Alberta. It goes to pay contractors from communities to install the equipment and to local suppliers of goods and services. The money in turn finds its way to local restaurants, gas stations, hotels, and other community-based businesses.
The energy sector will always be critical to Alberta's future. But having other economic drivers hedges bets against downturns and allows for greater fiscal resilience. Alberta's resource industries are a great example of how economic diversity can be beneficial. Since the global economic downturn in 2008, forestry, energy, and agriculture have all endured their ups and downs. Yet, the negative impact on communities has largely been mitigated because a slump in one industry was usually offset by stronger times in the others. While many communities around the world suffered tremendously, Alberta has continued to thrive.
Thanks to these investments and good business climate in Alberta, the forest industry is enjoying relative prosperity. Over the past year, the values of production for forest companies have climbed by 10%. This money gets invested into communities in more ways than just capital. 13,000 families in Alberta depend on wages from the forest sector. There are 50 communities throughout the province that receive a large portion of their tax revenue from forestry. And countless community projects like the Allan and Jean Millar Centre in Whitecourt, Spray Lake Family Sports Centre in Cochrane, and Vanderwell Lodge in Slave Lake are supported by the forest industry. Put it all together and you have a mutually beneficial relationship. Alberta is an ideal place for the forest industry to do business, and a strong forest sector is great for Alberta.