Voith carries out major project at Schoellershammer mill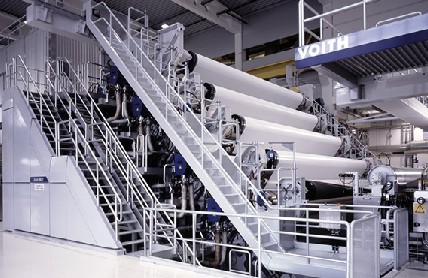 The Schoellershammer paper mill has placed an order for electrical and I&C system installation, control cabinet manufacture and commissioning with the automation team of Voith Industrial Services in Mainhausen. Until the end of 2016, about 40 employees will perform all activities required to commission the new PM6 paper machine in approximately 28,000 working hours.
Within the scope of the electrical and I&C system installation, the experienced teams install the cable trays and perform low-voltage system and fieldbus system wiring activities. The assembly, wiring and connection of I&C field devices, the installation of instrument air distribution manifolds, remote I/O as well as electrical and motor connections of the new paper machine in the new building are also included in the scope of services.
The switchgear is built and inspected according to the new DIN EN 61439 directive on low voltage in the industrial services provider's control cabinet manufacture department in Mainhausen. All manufactured cabinets are transported to Dueren and set up in the customer's new control room. The next step is the mechanical construction of cable trays. Then the cables are laid and connected to the new paper machine (or rather to the relevant sensors and actuators) and to the control cabinet. In total, Voith Industrial Services uses more than 300,000 meters of cable and more than 8,000 meters of cable tray and installs about 1,500 measuring and actuating devices.
All signals are checked by the automation team in so-called loop checks so that all notifications, limit values and alerts are correct and to prevent consecutive paper machine faults or possible loss of production.
Project management and commissioning support are also part of the contract. Since different trades start at the same time, different teams have to work together in a very coordinated way in a tight space. Waldemar Schombera, Sales Manager Automation and MES at Voith Industrial Services: "We have already implemented many automation as well as electrical and I&C installation projects for customers from different industries. Innovative solutions and continuously high service quality – that is what we stand for." The customer's benefit is that expert electrical and I&C installation are supplied from a single source.