Toscotec – rebuilt tissue machine started-up at Lucart Laval sur Vologne mill
After a comprehensive rebuild supplied by Toscotec the rebuilt PM10 at Lucart Laval sur Vologne mill in France has been successfully started.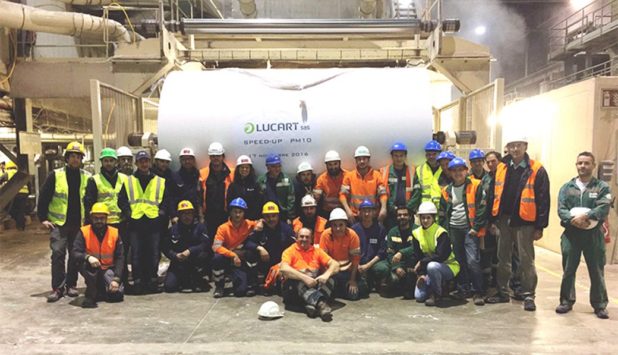 The rebuild will boost the machine speed from the current 1300 mpm to 1600 mpm for the production of high-quality tissue from virgin or recycled fibers.
Toscotec's turn-key supply included wire and felt section modifications, a new TT SYD-12FT, Yankee steam & condensate, and a TT MachineBrokePulper-MBP75. Complete engineering, erection, commissioning and start-up assistance were also included in the order.
The new TT SYD has replaced the existing cast iron one. The greater evaporation rate increases the production capacity and the Yankee deckle insulations allows an additional saving on steam consumption.
In 2010 Toscotec already supplied a TT SuctionPressRoll (diameter of 1045 mm).
Lucart decided to go ahead with Toscotec finding in the offered technology the right solution to its need of leader tissue producer.
Massimo Pasquini about this investment
"This investment is a strategic step to strengthen our presence in Central Europe and is part of our integrated strategy of reducing energy consumption in our paper making process" said Massimo Pasquini, Lucart Group CEO.
"We are happy to continue to support Lucart. Our technology is the right partner for its mission which sets continuous innovation, overall product quality, respect for the environment and total client orientation as fundamental values. The same which Toscotec is clearly inspired since its foundation." said Marco Dalle Piagge, Sales Director of Toscotec S.p.A.