MC Paper Machinery acquired by Valmet and continues its operations as Valmet Pescia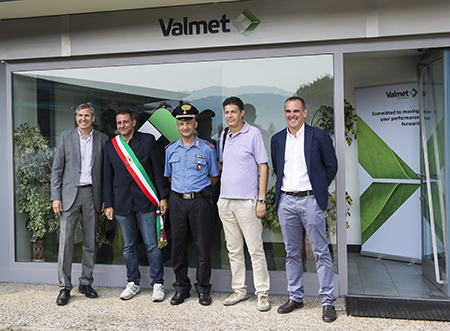 After 20 years as MC Paper Machinery, the Italian rewinding business has now become a part of the big Valmet family. On August 6 Valmet and Massimiliano Corsini srl closed the agreement on the sale, and the new company Valmet Pescia was born.
The acquisition enables the companies to combine their respective strengths to a solid full scope entity and provide a wide customer offering including all tissue making equipment from stock-preparation to rewinding. Both companies share the same determination to offer state-of-the art technology, process know-how, automation and services to the global tissue market.
MC Paper Machinery has a long history of designing and manufacturing rewinding plants specifically for tissue and non-woven machines. During the years a long term partnership has evolved with Valmet and a large amount of MC and Focus rewinders has been installed in addition to Valmet tissue machines all over the world.
"Valmet and MC Paper Machinery share the same determination to offer leading technologies with highest customer satisfaction. Through the acquisition Valmet will become a technology and service company with a wider offering of high technology equipment for tissue production. The rewinding business fits well in Valmet's product portfolio and will complement Valmet's product offering. We have the same ambition to drive the technology development further in our respective field and have reached good results together in many tissue projects. Valmet Pescia has great potential to develop its business further both in Italy and the rest of the world" says Anders Björn, Vice President Tissue Mills business unit, Valmet.
"MC Paper Machinery and Valmet had a long collaboration during the last years. My collaborators and I brought the decision to be part of Valmet for the market leading and the  market and it is in line with our products philosophy. We are strongly convinced that Valmet will reward our technology" says Massimiliano Corsini, Massimiliano Corsini srl president.
Valmet Pescia has today, 33 employees and is located in Pescia, close to the Lucca valley in Italy. The company supplies a complete range of electromechanical and hydraulic winders for tissue and non-woven machines to the global tissue market. The inauguration of the new company was held on August 10 in witness of the personnel, the mayor and the police department. According to Italian tradition the people and the operations were blessed by the local priest.
In the picture: The mayor and the local police department flanked by Anders Björn, Vice President Tissue Mills Business Unit (to the left) and Massimiliano Corsini, Site Manager Valmet Pescia (to the right).