EIB signs "Juncker Plan" loan with SAICA to improve the sustainability
The European Investment Bank (EIB) will finance SAICA's investment in new technologies to improve two of the production lines at its factory producing paper for corrugated cardboard in El Burgo de Ebro, Zaragoza.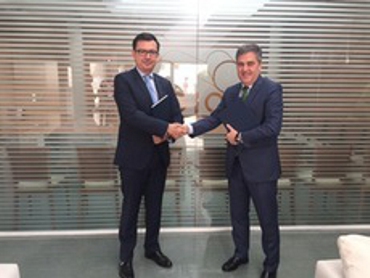 EIB Vice-President Román Escolano and SAICA Chairman Ramón Alejandro signed a EUR 70m loan under the Investment Plan for Europe at a ceremony in Zaragoza. The aim of this loan is to help the company to implement new sustainable production processes geared towards the circular economy.
SAICA is a family business that has been working to produce paper and corrugated cardboard packaging for the last 70 years. It is the leading Spanish company for this activity and is also one of the biggest players in its sector in countries such as France and the United Kingdom. The loan signed with the EIB will enable it to use the latest technology to make its production processes greener and more efficient, recycling resources more effectively and preventing them from being sent to landfill.
In concrete terms, the investment in the El Burgo de Ebro plant will make it possible to produce a new variety of paper with similar mechanical properties and appearance to that made using virgin pulp (kraftliner). The EIB financing will also enable the Aragon-based business to invest in innovative technologies and processes to develop a new range of white papers for high quality printing.
In this way, the EIB financing will help ensure SAICA's competitiveness by reducing costs and diversifying both its raw materials and its product range. Via the Investment Plan for Europe, the company will also benefit from financing on favourable terms and will be able to shorten the project implementation times. The EIB loan will have a positive effect on job creation in Zaragoza, generating 570 jobs during the implementation phase over the first two years and another 118 permanent positions.
At the signing ceremony, EIB Vice-President Román Escolano stated: "The loan signed in Zaragoza will enable SAICA to carry out the investments needed to manufacture its products more efficiently and competitively. With more than 9 000 employees, SAICA is one of the largest employers in Aragon. The EIB financing will help to develop this Zaragoza-based company's future via technological innovation and the use of production systems that manage resources in a more sustainable and efficient manner."
Jyrki Katainen about the investment for the modernisation of production lines
European Commission Vice-President for Jobs, Growth, Investment and Competitiveness Jyrki Katainen said: "The modernisation of production lines to promote sustainable industrial production requires investment. This is where the Investment Plan for Europe can play a key role. I am sure that the loan agreement signed today with the backing of the European Fund for Strategic Investments (EFSI) will enable SAICA, a family business, to invest in the latest technologies, manufacture its products sustainably and create new jobs."
For his part, SAICA Chairman Ramón Alejandro stated that: "at SAICA, innovation, development and research regarding new products and processes are what make us stand out from the competition. The loan signed today with the EIB will help us to continue pushing innovation as the key component of our commitment to making the company sustainable in the future."