Continuing upward trend in EU Beverage Carton recycling rate
The beverage carton industry has welcomed the latest figures on beverage carton recycling in the EU, showing that 47% of cartons were recycled in 2016, continuing the unbroken, upward trend since 2005.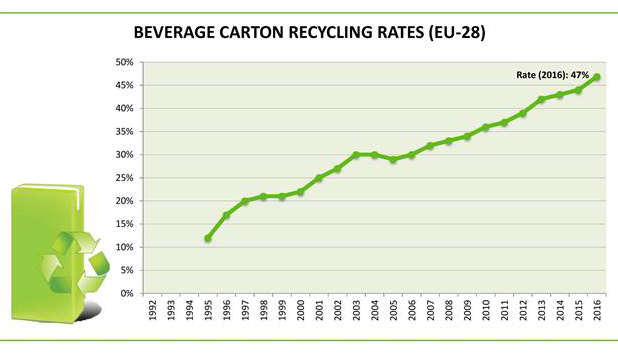 The figure is equivalent to approximately 430,000 tonnes, recycled at more than 20 paper mills in Europe. The total recovery rate (recycling and energy recovery) reached 76% for 2016.
Commenting, Annick Carpentier, Director General of the Alliance for Beverage Cartons and the Environment (ACE) in Brussels said: "We are delighted to see this substantial increase in the recycling of cartons across Europe in 2016. Separate collection is a key element in any type of recycling, and the continued increase in the beverage carton recycling rate across Europe indicates that beverage cartons are increasingly being collected, allowing them to be recycled."
Significant progress has been made since the early nineties when ACE began tracking the recycling rate of beverage cartons in Europe. In particular, EU Member States with appropriate packaging collection systems in place are achieving increasingly high recycling volumes.
Richard Hands, Chief Executive of ACE UK, which represents carton manufacturers Tetra Pak, Elopak and SIG Combibloc in the UK, said: "Our sector is committed to supporting and promoting beverage carton recycling and the continuing upward trend in the EU carton recycling rate in 2016 is good news. In the UK our focus has been on building access to recycling facilities for all. This year we hit our milestone of two out of every three or 66 % of UK local authorities collecting beverage cartons at kerbside for recycling. And when recycling bring banks are included, 92% of local authorities now collect beverage cartons for recycling, ensuring that the vast majority of households in the UK have access to a carton collection system."