Industry campaign to support Council Paper and Card Collections
The paper and cardboard industry has launched a new initiative supporting councils to improve the quality and quantity of paper and card separately collected for recycling.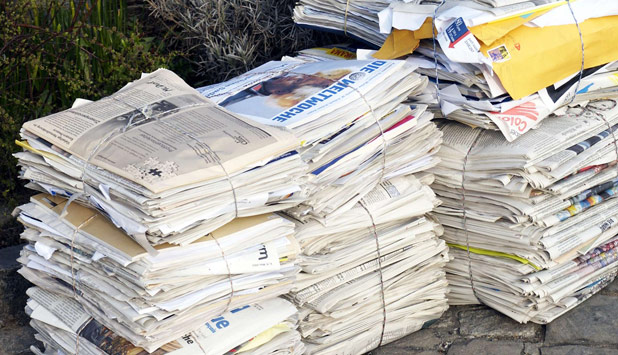 The new campaign, known as OUR PAPER, was formally launched by the Confederation of Paper Industries (CPI) in a bid to promote quality paper and card recycling in light of challenges posed by import restrictions in overseas markets.
The UK currently collects 7.8 million tonnes of fibre each year, with 4.7 million tonnes exported for reprocessing. Quality has been high on the agenda since the start of last year, when China implemented a ban on the import of 24 grades of waste materials, including mixed papers, along with strict contamination limits; other markets, such as Vietnam, have since imposed their own restrictions as exporters seek to divert tonnages from China to other destinations.
OUR PAPER has been devised in tandem with the Waste and Resources Action Programme (WRAP) and supports its work on recycling consistency. The campaign highlights the benefits for councils of separate collection of paper and card, such as the opportunities for maximising collections efficiency, as well as the potential financial gains; the OUR PAPER market briefing suggests that moving to multi-material kerbside sorting could be worth 'up to £400 million over eight years, adding up to seven percentage points to the national recycling rate', returning 'up to £478 million of materials into the economy as dry recyclables'.
Using evidence gathered by WRAP's work on consistency, OUR PAPER will demonstrate the business case for this approach, while also briefing councils on the market situation for paper and card in China and other Southeast Asian countries.
The campaign is set to last for three years and will be led by Programme Director Ray Georgeson, who is Chief Executive of the Resource Association, and Sarah Raymond of Palm Recycling, who will chair the campaign. They will be supported by a Steering Group consisting of the CPI, its members and WRAP.
Commenting on the launch of the campaign, Georgeson said: "I am delighted to be working with CPI and WRAP on this timely initiative to councils. Ensuring ever improving quality and quantity of paper and card for recycling has never been more important – recent events in China and Southeast Asia have shown that starkly. The message remains simple – paper and card recycling are the backbone of most kerbside recycling services, improving quality and quantity is good for the environment, good for council taxpayers and good for British manufacturing, using high-quality recovered fibre to build the circular economy."
Sarah Raymond, Chair of the OUR PAPER Steering Group, added: "The coming months and years will see significant changes in the way we manage recycling. Future developments in extended producer responsibility, food waste collection and enhanced consistency of collections are rising up councils' agendas with forthcoming Defra consultations on all these issues".
"Combined with huge market changes in the ability to export materials, it is a critical opportunity to future-proof fibre recycling collections as the centrepiece of kerbside systems, taking every opportunity to make savings as well. Our aim is to provide guidance and support and help local councils produce the material we need for a healthy British recycling industry."
Sue Reed, Collections and Recycling Manager for WRAP, welcomed the launch of the campaign, stating: "WRAP is pleased to see the paper and card reprocessing industries join forces and support our work on getting even more value out of recycling collections, building on and supporting our Framework for Greater Consistency in Household Recycling."