Voith builds new XcelLine board machine for Bohui Paper Group
In February 2017 Bohui Paper Group contracted Voith to supply a new board machine. The BM 4 will be built at Dafeng in the Chinese province Jiangsu and following completion will be one of the largest board machines in the world.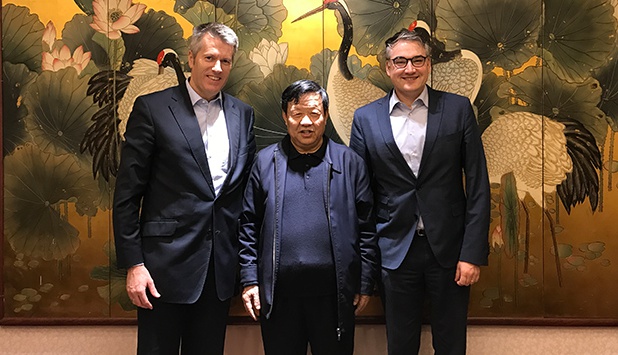 Voith will supply the complete XcelLine process line from wet end process to winder. This reduces the number of interfaces for the customer to a minimum and provides cost transparency for the entire project.
The order is the result of the long and successful cooperation between the companies to build the BM 1 and BM 3. The experts from Bohui Paper Group had already been impressed by the fast and smooth commissioning of these two machines in 2003 and 2013 respectively. The subsequent efficient production process also ensured a high degree of customer satisfaction.
From December 2018 the new BM 4 will operate at a speed of 1200 m/min to produce folding box board with a basis weight of 250 g/m2. The production line offers a range of special technical features that both improve the quality of the finished paper and reduce energy consumption. The wet section of the BM 4 impresses with a new Clean Design concept that achieves particularly high runnability.
In the BM 4, the use of a Triple NipcoFlex press not only ensures tremendous dewatering efficiency while preserving volume, but also achieves a smooth surface on the board. The scope of supply also includes three MasterJet Pro headboxes, a DuoFormer DII, four TurboDryers, and the energy-efficient qDry Pro noncontact drying system. Moreover the BM 4 is equipped with EcoCal Hard and EcoCal Soft calenders, a Sirius winding system as well as two VariFlex winders, MCS and DCS are completing Voith Paper's scope of delivery.
Voith Financial Services also helped secure the project by developing and organizing an attractive financing concept tailored to the customer's needs. In this area, too, there was close collaboration with Bohui Paper Group based on a spirit of mutual trust.