Visy Paper started up VP#5 in Melbourne, Australia, after Toscotec's press section upgrade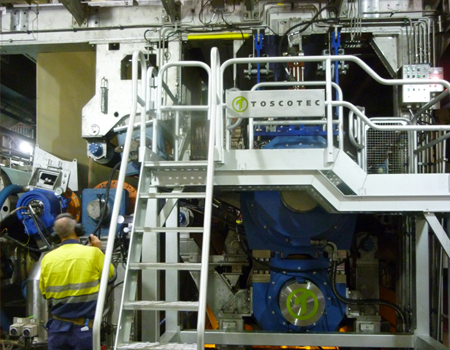 Visy Paper PM5 has successfully started up in end of March 2015 at Colaroo, Melbourne – Australia, after a press section upgrade carried out by the Italian company Toscotec. VP5 paper machine produces coating base sheet and test liner for export, from recycled paper.
Visy is one of the world's largest privately owned paper, packaging and recycling companies; it was established in Melbourne, Australia in 1948 as a manufacturer of corrugated cardboard boxes, and today's operational footprint extends in over 120 sites across Australia, New Zealand, Thailand and Vietnam and trading offices across Asia, Europe and the USA.
The project aim was to increase test liner paper quality and the overall efficiency of the press section, thus increasing the energy savings. The goal was achieved by the installation of a new framing for the press section and the introduction of a state of the art shoe press – TT XPress as third nip, working with a maximum nip load of 1300kN/m at an operating speed of 1000 m/min. The addition of a new TT SteelDryer-SD1500 at the beginning of the dryer section, completed the upgrade.
The short shut down period and the success of the installation was a result of the strong and constant partnership and cooperation between Toscotec, Build Run Repair, Visy's dedicated Project Management Group, and the Mill that led to the quick achievement of the expected performances.