Valmet Advantage DCT tissue line successfully started up at Syktyvkar Tissue Group in Russia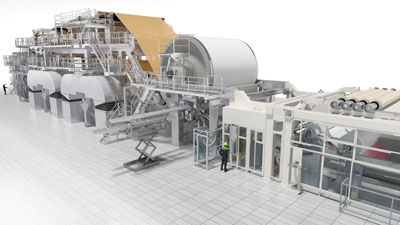 A Valmet-supplied tissue line recently started up at Syktyvkar Tissue Group's new site in Semibratovo, Yaroslavl region, Russia. The new Advantage DCT 100HS machine adds 30,000 tons of tissue per year to the company's current production of bathroom tissue, napkin and towel grades.
Valmet has previously delivered an Advantage DCT 100 production line to Syktyvkar's mill in the republic of Komi, which started up in 2008, as well as a major rebuild of their PM1 at the same mill in 2011.
"Valmet and Syktyvkar Tissue Group have developed a strong relationship during our previous deliveries. Excellent teamwork and big efforts from both sides combined with our well proven technology made the start-up very smooth and efficient. We are looking forward to continuing our long-term partnership in future projects," says Björn Magnus, Sales Director EMEA, Tissue Mills Business Unit, Valmet.
Technical information about the delivery
The tissue machine has a width of 2.7 m and a design speed of 2,000 m/min and is optimized to save energy and to enhance final product quality.
Valmet's delivery included a complete tissue production line featuring an Advantage DCT 100HS tissue machine. The tissue machine is equipped with an OptiFlo headbox and a cast alloy Yankee cylinder and an AirCap hood. The project scope also included basic and detailed engineering, process equipment, as well as the supervision of the installation and training of the new tissue line. Metso delivered an automation package with a process control system.