Toscotec to supply three new ahead-1.5m Es tissue machines to Vinda Group, China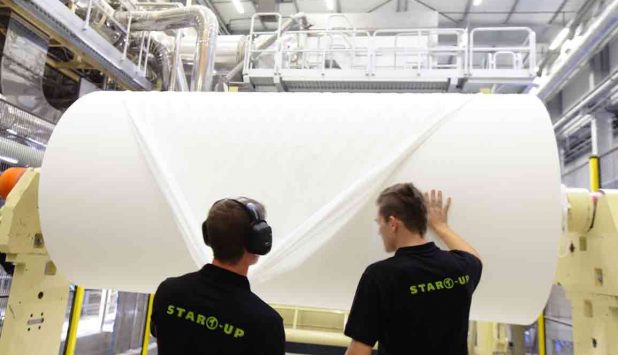 Vinda Group, producer and branded provider of household paper and personal care & hygiene products in China, has placed an order with the Italian manufacturer Toscotec for the supply of three new tissue lines at its two mills in Deyang, Sichuan and Laiwu, Shandong, which are scheduled to come on stream in the last quarter of 2015. Vinda Group has stepped up its expansion plan.
In line with the strong partnership established with Toscotec, it decided to place these new orders with the Italian manufacturer, based on Toscotec's technological advantage, which delivers top product quality and considerably reduces the mill's energy costs. As a result, the Group will add an annual production capacity of 60,000 tons in Shandong and 30,000 tons in Sichuan. The new Toscotec lines are AHEAD-1.5M ES crescent former tissue machines, designed for the production of high quality tissue products, with significant energy savings both with usage of gas and with steam. The speed is 1600 mpm, with a trim width of 3400 mm.
Furthermore, the scope of supply also includes Toscotec's Drying Optimization for Energy Saving solution TT DOES, a tailor-made drying package including also Milltech hood, which delivers higher drying efficiency and output, as well as key energy savings. Toscotec's short approach flow TT SAF contributes to such savings, with an overall efficiency increase in the approach system. Complete engineering and erection supervision, commissioning & start up assistance and training services are also part of the supply. These orders continue along the line of a strong, successful, long-term partnership between Toscotec Group and Vinda Group, which begun in 2011. Vinda Paper (Shandong) Co. Ltd. already houses two Toscotec tissue machines, PM1 & PM2, which came on stream in the second half of 2013.
Established in 1985, Vinda Group has grown from a small private company into a leading manufacturer and branded provider of quality household paper and personal care & hygiene products in the PRC. Vinda is today, with major shares from Swedish group SCA, the third largest hygiene paper manufacturer in the PRC, with excellent performance in customer loyalty and satisfaction. With 9 manufacturing plants strategically located in different parts of the country, it serves the entire PRC, Hong Kong and Macau and exports to Australia, Singapore, Vietnam, Cambodia, Africa.