Stora Enso Langerbrugge, PM#3 top former rebuild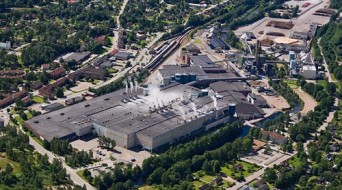 Stora Enso – Langerbrugge Mill, located in Gent – Belgium, has selected PMT for the rebuild of a Bel Bond Top Former in their PM#3.
The PM#3, a 6,5 m wide machine producing SC paper, will be rebuilt in its Bel Bond Top Former in order to improve formation and profile stability. The preference of Stora Enso Langerbrugge  for PMT is the direct consequence of other previous successful installations of the PMT  FORM T Top Former in other Mills of the Group. This new project follows the previous successful installation of a new Press Section by PMT in 2012 in the same paper machine, with the aim of giving PM#3 a longer life time and providing the necessary flexibility for future implementations as well as pressing technology upgrades.
Philippe Vermeulen, Stora Enso project manager, emphasized this project and the reasons of this choice with the following comment: "After upgrading the press section of our PM3 it was time to deal with the top former to improve process reliability and maintain a high quality product in terms of formation. PMT appeared to be the right partner thanks to their knowledge of both this process in detail and the particularities of our PM geometry."
This new project, developed by PMT, represents the confirmation of the market perception of PMT Italia as a reliable supplier amongst the leading paper machinery producers.