PMP's "Gold Eagle" TM5 at UPM's mill (South Africa) reached its first 10000 Ton milestone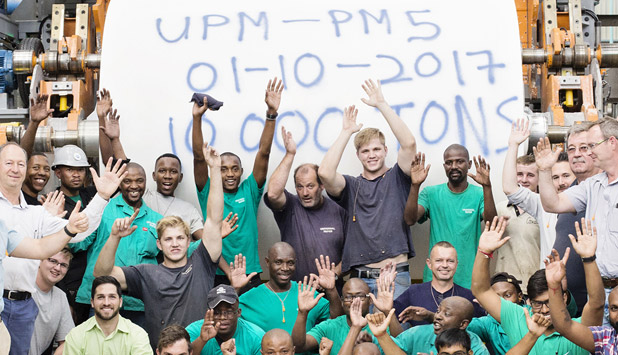 On Sunday, 1 October 2017, the new Universal Paper Machine TM5 reached its first milestone of 10000 tons of paper produced. The significant milestone was reached within 7 months after the plant was commissioned. This would not have been possible without the continued collaboration between the PMP team and UPM stakeholders.
The project of a turn-key green field tissue mill was designed and delivered by PMP (Paper Machinery Producer) and started-up successfully on the 19th February 2017 at UPM's Ga-Rankuwa mill in South Africa.
The goal of the new tissue line, TM5, was to double the annual capacity of UPM and to widen its product portfolio adding ultra-premium tissue products. The investment in tissue production was a logical step in the development of Universal Papers business, which started a new era not only for the company, but also for whole country's tissue market. Today "Gold Eagle" is first new state-of-the-art tissue machine installed in South Africa in the last 20 years and at the same time it is the fastest tissue machine in the whole country.