NipcoFlex T impresses with significant energy savings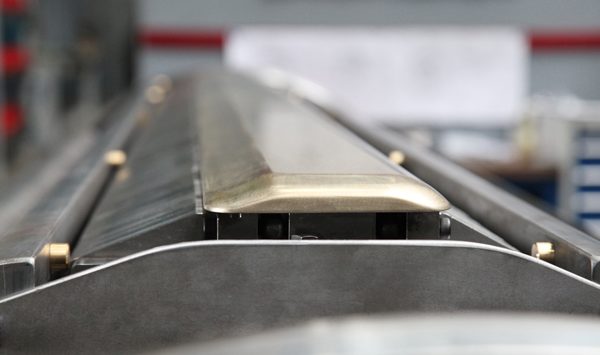 Voith's NipcoFlex T shoe press is well on the way to becoming a recipe for success. The latest version was installed for the first time in the UK in 2010. To date, 18 NipcoFlex T shoe presses have been sold in Asia, Europe, North and South America. Tissue paper manufacturers have been impressed by its energy efficiency, enhanced performance and ease of use.
A few months ago in November 2014, a new tissue machine from Voith went into operation at Fripa Papierfabrik Albert Friedrich KG. Fripa is one of the leading German manufacturers of high-quality tissue papers and has boosted its capacities with this new tissue production line at its headquarters in Miltenberg. When deciding on this investment "the use of sustainable technologies that would offer convincingly low consumption of energy and resources was right at the top of our wish list," says Managing Partner Verena Queck-Glimm. From Fripa's perspective, the NipcoFlex T shoe press was the standout attraction of the Voith production line. The superiority of the energy efficiency of this technology over other technologies has been demonstrated at many locations, for example at Luohe Yinge Tissue Paper.
Luohe Yinge Paper saves € 1.16 million per year. Since 2012, two identical production lines have been in operation in the Chinese province of Henan. Each of Luohe Yinge Tissue Paper Company's two tissue machines features a NipcoFlex T shoe press from Voith. And Luohe Paper is impressed by the results: "With the new systems we are achieving a dry content downstream of the press that is 5% higher than with conventional technologies and are thus saving 20% energy in the dryer section," explains QiFeng Wang, Vice General Manager at Yinge Tissue Paper.
Compared with other technologies, for example suction press rolls, the flexible shoe press enables a 52% reduction in gas consumption, while steam consumption is additionally lowered by 5%. At Luohe Yinge Paper, this has resulted in annual cost savings of around € 1.16 million euros. The two systems supplied by Voith are designed for an operating speed of 1,900 m/min and an annual production capacity of 60,000 metric tons. The company uses the machines to produce tissue papers with a basis weight of 12 – 30 g/m2 from virgin fibers, with a web width on the roller of 5,500 mm.
Mili TM 4: production increase following upgrade. Brazilian major tissue paper manufacturer Mili has modernized its tissue machines to allow it to meet increasing demand on the domestic market. Mili's intention was to increase energy efficiency and production capacity through the rebuild, so a NipcoFlex T shoe press was installed into the TM 4 in Três Barras in 2013. The company achieved its objectives.
As well as energy savings of 14%, the tissue manufacturer is now especially pleased with the improved performance. As a result of installing the NipcoFlex T shoe press, it has been possible to increase production speed from 1,300 m/min to 1,456 m/min, which led to a rise in output of 5.4%. Paper quality also benefited from the new system, as it achieves a more uniform CD moisture profile and consistently high volume with reduced input of virgin fibers. On the TM 4, Mili produces tissue papers with a basis weight of 15 g/m².
Technical features of NipcoFlex T. Voith has more than 30 years of experience in the development of shoe presses. When the current generation NipcoFlex T shoe press was being developed the focus was on decreasing thermal energy consumption by increasing the dryness after the press, thus, increase resource efficiency without compromising paper quality. For Fripa in Miltenberg, for example, the softness of the paper also plays a major role. Requirements included "absolutely optimized energy consumption, moderate operating costs, low water and wastewater values and also high softness values for the paper," emphasizes Managing Director Andreas Noack.
Miltenberg PM 7: ideal for soft papers. The technology of the NipcoFlex T shoe press is ideally suited to achieving this softness. Because the shoe of the press is flexible it enables the deflections of the Yankee cylinder to be traced precisely. The result is a more uniform CD moisture profile and stable production conditions at the Yankee cylinder edges. The new NipcoFlex T features two hydraulic pressure cushions, segmented intermediate pieces over the entire machine width and a thin flexible shoe instead of several pistons along the entire machine width and a more robust shoe, which allows the number of control elements to be reduced. Paper quality can be modified perfectly during operation by adjusting the pressure at the pressure cushions and, consequently, change the shoe position against the Yankee cylinder, thus, change the peak pressure at the press nip. Depending on requirements, a higher dry content or greater volume of tissue paper can be set online directly from the control room. From the papermaker's perspective, the simple handling is an additional benefit that sets the NipcoFlex T shoe press apart.
The new PM 7 tissue machine in Miltenberg is designed for a paper width of 2,700 mm and produces toilet tissue and kitchen towel at an operating speed of 2,100 m/min. Its annual capacity is 36,000 metric tons, making the Miltenberg PM 7 one of the most efficient tissue machines currently operating worldwide. The feedstock is 100% virgin fibers. Voith supplied Fripa with the complete process line in a period of just 16 months from signing of the contract to commissioning. Shortly after the start-up the PM 7 was producing tissue paper at high speed and with saleable quality.