Microline: on-demand innovation for secondary packaging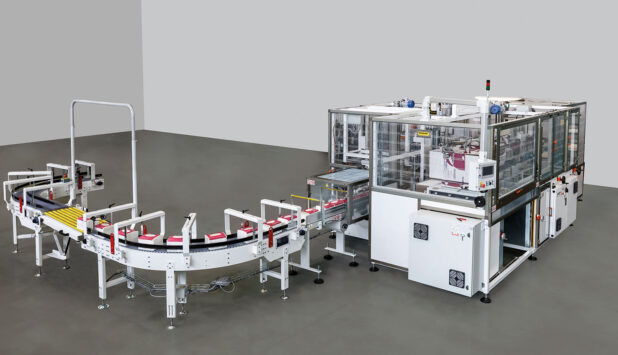 Located just outside Bologna in the heart of the Italian Packaging Valley, Microline designs and markets automatic machinery and line-automation solutions. It possesses a high degree of technological expertise, specialising in Tissue product packaging. The experience gained from working in this sector for more than twenty years is transformed into solutions for the secondary packaging sector that represents a significant part of the corporate portfolio.
DNA comprising technology, flexibility and precision
Microline case packers and palletisers boast the same technology level and build quality as primary packaging solutions, but are designed to work with a vast range of products. So not only solutions for the tissue sector, but also the cosmetic and food industry, designed to be cutting edge, but at the same time sustainable and sturdy. Everything hinges on product handling that needs to be meticulous.
Therefore, every project calls for specific development and is carefully supervised at all times from the preliminary stages right through to machine installation. Microline offers after-sales support: indeed, the Bolognese company provides remote assistance systems as standard. Versatile Microline solutions enable bundling of a series of products ranging from disposables to personal hygiene items.
Automatic case packers for applications ranging from food to cosmetics
The company's product range includes both side-loading case packers (ROM), specifically designed to form stackable products of defined shape, and top-loading case packers (RVM) that are instead used for high-speed production of non-stackable, soft or hard, regular- and irregular-shaped products (containing products such as cereals, pasta, biscuits, coffee pods, etc.). These machines are designed to erect and fill slotted cases, i.e. pre-glued blanks of both the RSC or shelf-ready type, in an entirely automated manner.
Both models are available in different versions depending on size of the cases to be processed (ranging from min. 200 mm × 150 mm × 80 mm to max. 800 mm × 600 mm × 650 mm), type of product being packed and required output speed. Hot-melt-glue or adhesive-tape sealing systems are available or a combination of both. Depending on customer requirements, various optionals can enhance the capabilities of every machine, including an additional blank magazine or case erectors.
Microline palletisers
The company also offers customers comprehensive end-of-line management solutions, assessing all requirements relating to product type and output speed. Palletisers are utilised that can be paired with both case packers and shrink wrappers/bundlers. These have a semi-portal frame that utilises interpolated 4-DOF Cartesian axes. The packed product (bundle, bag or box) travels along a motorised conveyor from the packaging machine to the palletising area. Here, a gripper picks up the box and places it on the pallet according to the requested collation.
After completing either manual or automatic positioning of the product on the pallet, the latter is transferred to the storage area. The machines can handle up to 3 incoming product lines and the same number of pallet stations. Finally, the standard model can be fitted with a set of optionals for fully-automated processing, e.g. semi-automatic or automatic pallet change and special collators. A mechanical pick & place system is supplied as standard but an optional vacuum pick & place unit is available upon request.
Whatever the choice of machine, Microline's engineered solutions are custom configurable and can be adapted for secondary packaging of goods such as Home Care or AFH paper rolls, interfold products, toilet tissue, couch rolls, napkins, coffee and lots more.