Improved combustion and lower emissions – Sunshine Paper relies on Bellmer Kufferath Machinery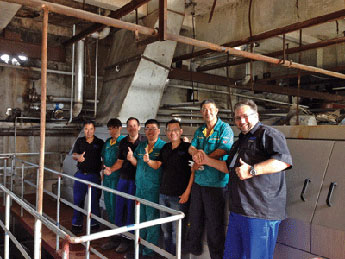 Chinese Sunshine Paper Group produces packaging and decor paper in several paper mills. One of them, Changle Mill in Shandong province, produces packaging papers from OCC. The sludge produced in mechanical and biological waste water treatment used to be dewatered using belt presses and burned in the boiler. However its caloric value was small due to low dry content.
In order to increase the contribution of sludge to energy production and thus to reduce the emission of carbon dioxide from coal combustion, the customer decided to replace the existing machines with Bellmer Kufferath sludge dewatering plants. The first line, consisting of a flocculation reactor, an AKSE S 175/08 disc thickener and an AKUPRESS BX 1000 LL-H screw press, was delivered in March 2014 and started up in May. After a few days of operation the specified cake dryness of 60 % was achieved and the throughput exceeded expectations. The new machines are fully closed, which avoids the emission of humidity and odour in the building. The outstanding performance of Bellmer Kufferath and of the installed system convinced the customer to replace more belt presses. The second, identical, screw press line will be installed shortly and started up in the fourth quarter of 2014. The achievements at Sunshine Paper testify to the success of AKUPRESS BX screw presses in the Chinese market, where Bellmer Kufferath has its own sales, project and service staff within the group's Bellmer China Co., Ltd facility.