GOEBEL IMS successfully showcased product portfolio at drupa 2016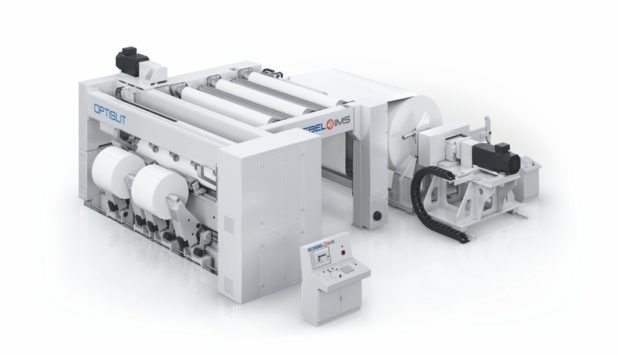 260,000 visitors from 188 countries and 1,837 exhibitors from 54 countries – this is the positive outcome reported from drupa.
Between May 31 and June 10 print and media industries met in Düsseldorf, Germany, to discover innovative technologies and recent developments for all steps of the production process. In a positive investment climate, GOEBEL IMS, a leading provider of slitting and winding solutions for, all kinds of papers and boards, as well as other markets and applications, successfully showcased its product portfolio to industry experts, customers and potential clients. "This year's drupa has been an outstanding success for us", says Ugo Barzano, Sales Director for the Business Unit Paper and Board. "We have exhibited our top seller, the T 2 for converting specialty, standard and aseptic packaging papers and have received a lot of positive feedback on our products and solutions. We have also established promising new business contacts and discussed innovative technologies with industry experts during those 11 exhibition days and our booth party. We are very happy with this year's outcome and are looking forward to meet again at drupa in 2020."
GOEBEL IMS offers a broad range of slitting and winding solutions
GOEBEL IMS offers a broad range of slitting and winding solutions for various applications in the paper manufacturing and converting industries. Our top selling slitter rewinder T 2 offers the industry's best price-performance ratio for converting solutions. It processes specialty and standard papers, coated and uncoated papers as well as board and aseptic packaging papers. Thanks to its ergonomic and flexible design, T 2 can be adapted to individual customer needs and specific requirements. Several automation features as well as a fully automatic version further increase the productivity and efficiency of the production process.
RA 2 and OPTISLIT are two machines that are specifically designed for converting technical as well as pressure- and surface-sensitive papers. RA 2 is one of the highest-performing machines for working widths up to 3,000 mm. In its field the slitter rewinder offers maximum productivity, outstanding quality and a top level process automation. With a working width of up to 5,000 mm, the OPTISLIT is a special-purpose machine for converting pressure-sensitive and surface-sensitive papers such as thermal papers. It guarantees premium quality of the finished rolls due to extreme precision of contact pressure and web tension and allows for even higher production speeds than the RA 2. All GOEBEL IMS slitter rewinders are customized into individual slitting and winding solutions to meet the specific needs of paper producers and converters in order to help them create sustainable value in their production process.