EUROSAC Congress 2018 demonstrates strong commitment of paper sack industry
This year's annual EUROSAC Congress "Paper sacks – the natural commitment" was held in Malta in May 2018.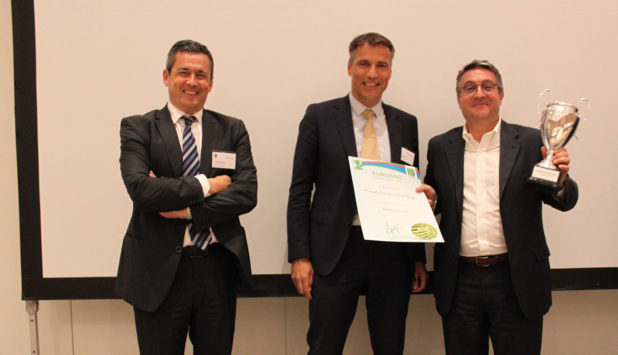 The congress provided a forum to discuss the circular economy approach of the European paper sack and sack kraft paper industry, recent market developments as well as the activities of the association, and customer needs in the food sector. Moreover, the latest innovations were honoured with the EUROSAC Grand Prix Award. The Austria-based company Mondi received the coveted trophy for its packaging solution "MailerBAG".
After moderate growth of 0.2% in 2017, the beginning of 2018 was promising for the European paper sack industry: It recorded a growth of 3.1% in deliveries of paper sacks in the first quarter compared to the same period in 2017.
Natural commitment to the circular economy
Joanna Drake, Deputy DirectorGeneral of the Directorate-General for Environment, gave an update on the "EU Plastics Strategy". It was introduced by a short videomessage from Karmenu Vella, EU Commissioner for Environment, Maritime Affairs and Fishery, who welcomed the discussions of the congress as a contribution to make the transition to a circular economy a reality and encouraged the participants to innovate.
The audience also received an overview on the industry's European policy issues and the ongoing research and communication activities, that aim at improving the performance of paper sacks to meet the challenges of the future, for example in terms of customer demands, industry 4.0 and environmental issues related to the circular economy.
Focusing on the food industry's needs
The food sector is one of the areas in which the European paper sack industry will particularly show its commitment to customer needs in 2018. The European Cocoa Association and the European Dairy Association informed the participants about the developments and challenges in each specific market as well as their individual packaging needs. "Along with the encouragement from the EU, these valuable insights give us new fuel for innovation," said Rob Franken, the newly elected president of EUROSAC. "The source of our advancement as an industry is the continuous efforts of our members who supportthe process of making paper sacks even more successful."