Ecofibras started up TM#5 in Aranguren, Spain, after major rebuilding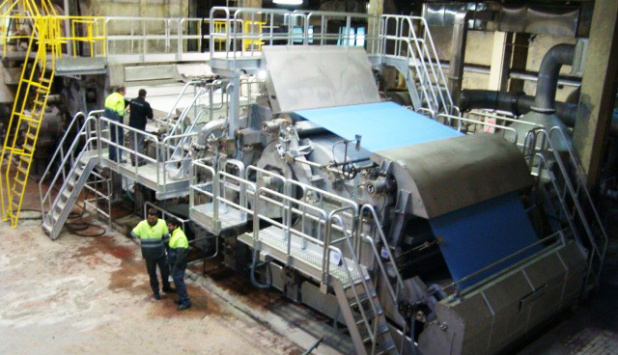 The Spanish Company Ecofibras Aranguren SL, tissue manufacturing facility of the CEL Group, has successfully completed and started up in cooperation with Toscotec the major rebuild of the tissue machine TM#5 in Aranguren – Zalla Bizkaia – after a major rebuilding.
Formerly KC Aranguren plant, Ecofibras initiated a new phase as an independent company in 2012. TM#5 rebuild project was part of the new development plan designed to increase company's production capacity and improve product's quality with the aim to supply current parent reels market, both in virgin and in deinked pulp reels.
The project's scope was to rebuild into a crescent former the existing machine TM#5, originally equipped with a suction breast former and sloped wire configuration, in order to produce lower tissue grades, improve the machine speed as well as the runnability and maintenance.
Toscotec supplied to Ecofibras a stock preparation upgrading, a fully hydraulic step diffuser headbox TT Headbox- SLT and the replacement of the wet-end section into Crescent Former. Erection supervision, start-up assistance and training services completed Toscotec's scope of supply.
The new configuration, besides reaching energy savings and a high product quality targets, allowed TM#5 machine to increase the operating speed from 1370 mpm up to 1500 mpm, with the possibility of reaching a speed of 1800 mpm once dry end section will be upgraded.
Due to the perfect integration of the mill and Toscotec teams, the rebuild has been carried out in a very short time and the target was reached both in terms of timing and performances.
Once more, with this new installation, Toscotec has demonstrated its capability and great experience in managing complex technological machine upgrading and rebuilding worldwide in a short delivery and installation time.