DS Smith celebrate a double win at the 2014 UK Packaging Awards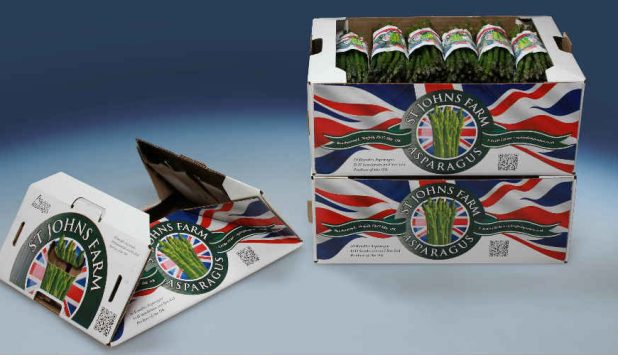 The UK Packaging Awards were held in London on 12 November 2014 with over 700 people from the packaging industry in attendance.
DS Smith's packaging division was shortlisted for 12 awards, highly commended for three awards and won the Online Retail and Retail Ready/POS categories.
The Online Retail category was awarded for designing a corrugated postal pack for a customer supplied via distributor Macfarlane Packaging. The brief was to produce a fast, no mess, no tools way of packaging beauty products for customers who shop online. The pack has seen impressive results already with warehousing space saving of around 40% and 30% savings in time and labour thanks to the design's easy functionality. The DS Smith team also collected the gong for the Retail Ready/POS category for their easy-erect asparagus tray for customer St John's Farm. The corrugated tray holds 10 bundles of seasonal asparagus in a ventilated and protective unit with minimal water penetration. The trays are quick to make up and easy to collapse for easy recycling after use, saving time and space.
Tony Foster, Sales and Marketing Director Packaging UK for DS Smith, said: "We are thrilled to achieve 12 shortlist nominations, showing the strength and depth of our design processes. Winning two awards, both in categories for innovation, is the icing on the cake.
"Our corrugated postal pack demonstrates how the right design can reduce packing time and labour costs, whilst making best use of space and supporting the brand".
"Meanwhile our asparagus tray shows the sheer flexibility of corrugated packaging. The printed corrugated tray adds impact in store, saves space and is efficient throughout the supply cycle. As always, DS Smith strives to help customers save money and sell more products."
Tony continued: "These awards round off a great year when added to the 12 honours from Starpack, 10 at EFIA and our winning Lyons Tea professional pack at FlexoTech International industry awards. This success reflects DS Smith's determination to constantly innovate and create solutions for our customers".