Double record for the A.Celli Paper Tissue Machine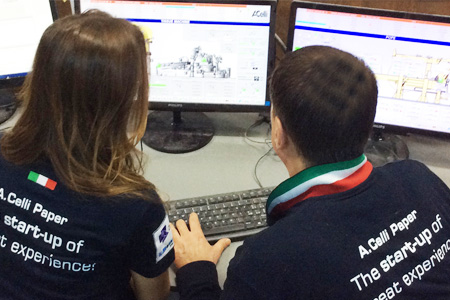 Double record for the A.Celli Paper Tissue Machine at Metalicplas: production speed target reached just a few weeks from its startup!
After the record-breaking startup, another first for the turnkey Tissue Machine at the Dej facilities in Romania: the maximum production speed target was achieved in just four weeks.
On 1st February, 2016 at 2 pm, the display on the control panel clearly showed the numbers of the A.Celli Paper plant: (15.5 g/m2 – 1800 m/min). TM2 was already running at the max production speed of 1800 meters per minute! A figure that, just such a short time after the startup which took place a few weeks ago (it was 19th December, editor's note), underscores the level of commitment, participation, passion and enthusiasm with which the A.Celli team worked on the project of the Romanian Group Pehart Tec, supporting the customer at each step and spurring him quickly towards the final rush.
A.Celli Paper's turnkey service means this, too: a technology of excellence, a professional technical staff and guaranteed top performance in reduced times.