Bekaert Solaronics will install a UniDryer® V3 at Technocell Günzach, Germany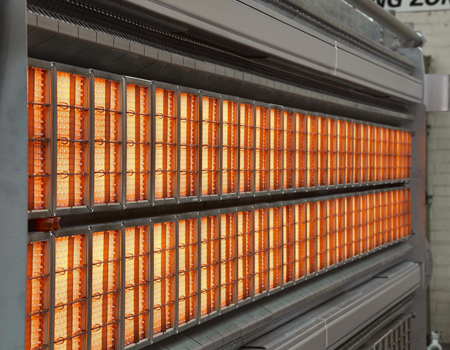 Bekaert Solaronics is partnering with Bellmer for the installation of a UniDryer® V3 system in PM14 at Technocell Günzach's paper mill in Germany. The extensive revamp of the paper machine is scheduled to take place in the 4th quarter 2015.
This installation is part of the Technocell Günzach's project to expand the production of pre-impregnated papers, a key growth segment. After the rebuild, the paper machine PM14 will produce both pre-impregnated PRIP® as well as nonwoven papers coated on both sides for wallpapers. The objective of the installation in the Günzach mill is the non-contact drying of a new specialty paper.
The UniDryer® V3 offers a rapid heating, high energy efficiency, high compactness and ultimately a better paper quality. The system will be equipped with Gem12E, the latest generation of Bekaert Solaronics emitters that allow an increased drying efficiency by approximately 10 % compared to the regular Gem12 emitters. About Gebr. Bellmer GmbH Maschinenfabrik Located in Nierfen, Bellmer is a specialist starting from the planning up to the turnkey implementation of machines and plants for the manufacturing of paper and board. The company supplies from individual parts to complete machines for the paper industry. Bellmer has been working for the pulp and paper industry all over the world since 1842. About Felix Schoeller Group Founded in 1895, the Felix Schoeller Group is a family business with worldwide operations producing specialty papers for photographic applications, digital printing systems, self-adhesive applications and for the furniture, wood-based products and wallpaper industry. About Bekaert and Bekaert Solaronics Bekaert is a world market and technology leader in steel wire transformation and coating technologies. We pursue to be the preferred supplier for our steel wire products and solutions by continuously delivering superior value to our customers worldwide.
Bekaert (Euronext Brussels: BEKB) is a global company with 30 000 employees worldwide, headquarters in Belgium and € 4 billion in annual revenue. Founded in 1967, Bekaert Solaronics supplies customized drying and heating systems based on gas and electrical infrared technology to a wide range of industries. Today, more than 1 000 systems have been installed worldwide. The company also provides maintenance services and is available to assist on upgrades or improved energy efficiency of existing systems.