YFY's & PMP's common project of TM#7 rebuild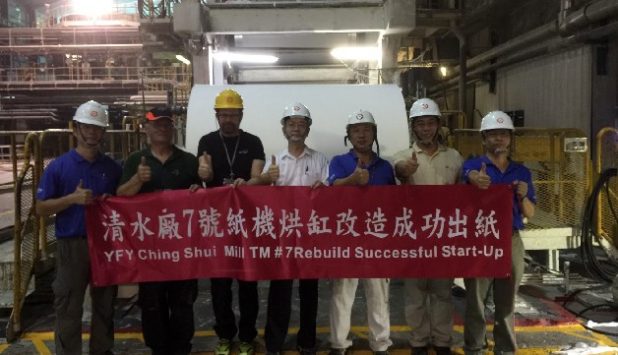 In October 2015, Yuen Foong Yu has signed a contract with PMP for rebuild of TM#7 in Ching Shui Mill (Taiwan). The delivery included steel Intelli-YD®, Intelli-Hood® and Steam & Condensate system. Thus announces that in August 2016, TM#7 equipped with PMP's state-of-the-art technology has been successfully started-up!
This time, the scope of supply covered 12' steel YD designed and manufactured by PMP (2420 mm sheet width on Yankee), a high efficiency Yankee hood supplied with an air fan – Intelli-Hood® – and a Steam & Condensate equipment. Designed Yankee is a steel welded construction with bolted on journals.
In order to increase Yankee's efficiency, PMP offered optimized and tailor-made solutions. Intelli-YDTM designed for YFY is capable to operate up to 9.5 bar(g) of steam pressure and a maximum design speed of 1200 mpm. Additionally PMP exchanged existing steam Yankee Hood with Yankee Cap to reduce steam consumption. Changes in the Steam & Condensate system were implemented to fit new system conditions.
YFY decided to choose PMP Intelli-YD® due to great running references representing very high performance and ultra-low media consumption. This project is an example where PMP's technological knowledge combined with high-tech equipment can become a key factor to achieve common success.