Tecno Paper Srl will supply to Valot S.A. a "Multifunction" Slitter Rewinder
The Rewinder has a trim width of 3750 mm and includes 2 unwind stands for parent reels diam. 2000 mm, slitting unit with 20 slitters, rewinding head able for finished reels diam. 1800 mm and speed up to 1500 m/min.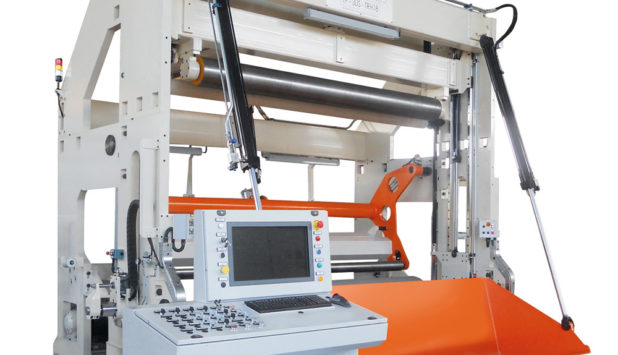 This special Rewinder can process both Tissue, with basis weight range 13-38 gsm, and MG paper, with basis weight range 14-60 gsm. The first unwind stand is equipped with two motors and double drive system: peripheral with belts for tissue, and center drive, with gearbox, for MG paper.
The control system is double, and each system can be easily selected by simply pushing one button: one system works in "speed differential" mode when processing tissue, and the other system works in "tension" or "draw" mode when processing MG paper. The control system includes a DCS for handling all the functions of the rewinder and for communication with the mill main DCS.
The rewinder is fitted witrh a special system to keep constant the tension and to recover possible off-roundness of the parent reel when processing MG paper and working in tension mode. The supply includes a trim removal system and spare parts. The services provided by Tecno Paper are the complete basic and detailed engineering, erection supervision, start-up and training.
The rewinder will be fully tested in Tecno Paper workshop before the shipment, that is foreseen in the month of October 2017. Tecno Paper has already supplied several rewinders of the same type in Europe and Asia, that are all working and performing at full customers' satisfaction.
About Valot S.A.
Valot S.A. is the Argentina's leader company in the away-from-home products. It is present on the market since 50 years producing excellent tissue products.