Sonoco recognizes facilities for zero waste to landfill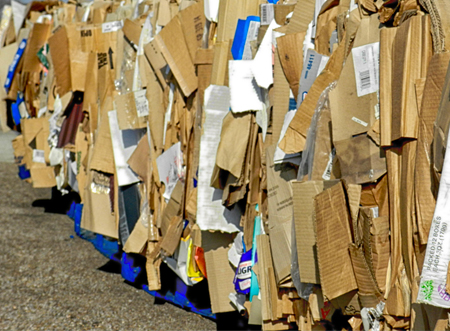 Sonoco, one of the largest diversified packaging companies, has granted its gold-level Sonoco Sustainability Star Award to three plants across the United States for their successful efforts to achieve landfill-free status.
The awards were granted to the following facilities:
American Packaging Corporation, Flexographic Printing and Laminating Division, Story City, Iowa
MillerCoors, Milwaukee, Wis.
Sonoco Global Plastics, Chatham, N.Y.
All three facilities achieved 99% landfill diversion.
American Packaging worked to achieve and maintain ISO 14001 Environmental Management System certification, while also including employees across the organization in projects that increased efficiency, reduced waste, repurposed waste streams more effectively and lessened environmental impacts. The company has demonstrated a long commitment to sustainability, partnering with the Ames Resource Recovery Center for waste management since 1990.
MillerCoors eliminated 65 tons of waste that was previously sent to landfill each month from its Milwaukee brewery and corporate offices, logging its first landfill-free month at the brewery in December 2014. This marks the first MillerCoors campus to achieve complete landfill-free operations and the seventh of the company's eight major breweries to reach this milestone.  The Milwaukee Brewery reduced waste by 19 percent over the past year. Residual waste that cannot be reused or recycled is sent to a waste-to-energy facility.
Sonoco Plastics' Chatham location supplemented a longstanding waste-to-energy partnership with Covanta, with a long-term dedication to encourage recycling and reuse of waste materials via improved recycling programs and waste-oil capture programs. Proximity to the waste-to-energy facility, as well as a shipment system based on volume rather than a calendar schedule, help minimize the program's carbon footprint.
Administered by Sonoco Recycling, the Company's recycling business, the Sonoco Sustainability Star Awards program is comprised of three tiers:
Gold recognizes facilities that have achieved 99% landfill diversion;
Silver is awarded to facilities achieving 95% landfill diversion; and Bronze recognizes facilities that have made significant waste reduction achievements, such as drastically reducing their waste streams or implementing a new composting system.
A recycling leader with locations and expertise worldwide, Sonoco Recycling annually collects more than 3 million tons of old corrugated containers, various grades of paper, metals and plastics. In addition, the Company has experts who provide secure, reliable and innovative recycling solutions to residential and commercial customers. Currently, Sonoco Recycling operates five material recovery facilities (MRFs) serving more than 125 communities in which curbside-collected residential and commercial materials are processed. The Company also operates recycling programs, which identify waste reduction opportunities that reduce operating expenses for many of the largest consumer product companies in the United States.