Smurfit Kappa breaks the ice with creation of life-sized cardboard igloo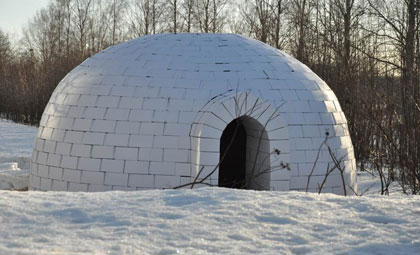 Smurfit Kappa has once again demonstrated its creativity and innovation with the installation of a corrugated cardboard igloo in Piteå, north Sweden.
Made from Kraftliner-based corrugated board, the igloo was created to test the durability and resistance of Kraftliner in extreme conditions of low temperatures and contact with water.  Measuring 4 metres wide and 2 metres high, the igloo is constructed using a combination of Kraftliner White Top, Recycled High Performance, and Kraftliner papers.
Igloos are usually made from cubes of ice with a slight angle, so achieving the dome shape from perfectly rectangular corrugated building blocks wasn't easy. However, never prone to shy away from a challenge, the creative minds of the Smurfit Kappa team persevered until reaching the perfect solution, unveiling their innovative creation in mid-March.
Temperatures in Piteå, where the company also has a Kraftliner paper-mill, can drop to as low as -13 degrees Celsius. The igloo has proven a hit with locals, offering welcome respite from the cold outside and acting as a social hub complete with tables and chairs and a warm and friendly atmosphere.
 This latest creation from Smurfit Kappa demonstrates the resistance and durability of Kraftliner as well as the company's extensive expertise and innovation. For proof of Smurfit Kappa's commitment to Open the future with its customers, visit its dynamic microsite, where a series of films demonstrate how customers across the world have worked in partnership with Smurfit Kappa to create innovative solutions which have driven commercial success. The microsite can be visited at openthefuture.info, the home for new, shareable content which is updated regularly.