Smurfit Kappa Abercarn named as the Welsh Quality Award Winner 2014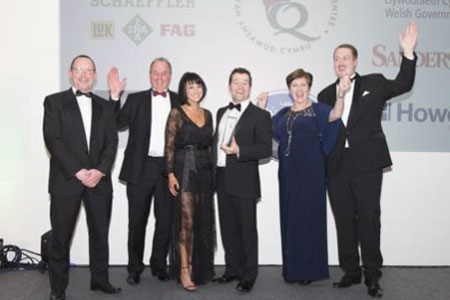 The highly prestigious 2014 Wales Quality Award has been awarded to Smurfit Kappa Abercarn in honour of its continuous development of leadership, strategy, quality and innovation. Speaking at the award ceremony held on 26th March 2015 at The Vale Hotel, Cardiff, Geraint Bowers, General Manager of the south Wales based manufacturer of large-format corrugated packaging said, "To win this national award is a great honour, reflecting the quality of our managers and our staff. It is one thing to have a strategy for delivering quality and innovation, but it is a far greater challenge to follow through with that ethos daily. To be acknowledged as the best in Wales is a huge vote of confidence in our staff and their abilities."
Smurfit Kappa Abercarn was chosen as the prime example of 'quality in action' from a large number of entrants. Organiser, the Welsh Quality Centre, is a non-funded, not for profit body supporting organisations across private, public and third sectors. The annual Quality and Innovation awards are vital tools in showcasing the successes and best practices of businesses in Wales.
Smurfit Kappa Abercarn was audited by three assessors during 2014 at its Operation based in the Prince of Wales Industrial Estate, from where it supplies high-quality, XXL corrugated packaging to some of the UK's foremost brand names. Its portfolio of products include, Transit Display Packs and Merchandising Units for the retail sector; Large format one-piece corrugated packaging and Heavy Duty boxes.
Smurfit Kappa Abercarn employs a total of 56 staff and is part of Smurfit Kappa Group, the global leader in paper based packaging solutions with around 42,000 employees in approximately 350 production sites across 32 countries and with revenue of €8.1 billion in 2014. Smurfit Kappa operates in 21 countries in Europe, and 11 in the Americas.