Schumacher Packaging & Display commissions Europe's largest flatbed diecutter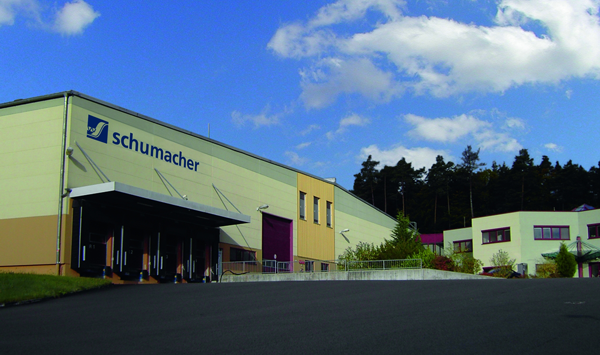 Europe's largest flatbed die-cutter has now been commissioned at Schumacher Packaging & Display BV in Breda, the Netherlands. This represents a heavy investment for the German-based Schumacher Packaging Group, who took over the well-known display specialist Vinke Display BV in Breda in June 2014. The new large-format die-cutter, model name Giant 250S, was made by the South Korean machine producer Young Shin. It can process sheets measuring up to 1700 x 2500 mm, which actually exceeds Xb size, and it is suitable for single wall or double wall corrugated cardboard and also solid cardboard. This advanced large-format machine can process 2,000 – 3,000 sheets per hour and has excellent register accuracy. Customers of the Schumacher Packaging Group will gain significant benefits from the investment, as the large sheet sizes will allow the production of complex shapes with the smallest possible number of individual parts. This significantly broadens the range of creative options in the design of displays and it reduces production costs.
Luc Swaenen, formerly co-owner and managing director of Vinke Display before it was taken over by Schumacher Packaging, and who is staying on as managing director of the renamed company, is delighted with the new design possibilities: "We don't produce conventional packaging in Breda – we produce large structures, from display to shop decoration products. Previously, complex designs entailed a lot of stapling and gluing. Now, with this new large-format die-cutter – the largest in Europe – we have a whole new world of design freedom and we can manufacture at lower cost."
The plant in Breda, which now operates under the name Schumacher Packaging & Display, has an excellent long-standing reputation as a creative force for manufacturing innovative displays, promotional packaging and shop decorations. Its customers include a large number of major European brand-name manufacturers such as Coca Cola, Ferrero and Procter & Gamble. For the Schumacher Packaging Group, the aim of investing in the Dutch Breda site was not just to expand its portfolio of display solutions, but also to establish a new sales and logistics hub specifically for the Benelux area. In Breda, customers now have access to the entire Schumacher Packaging portfolio of tailor-made packaging solutions made out of solid or corrugated cardboard. Schumacher Packaging already had a strengthened presence in the Benelux area due to its strategic investments in German plants close to the border. They built an ultra-modern plant for corrugated board in Greven directly next to Münster/Osnabrück Airport and production commenced there in May 2014.