Fedrigoni Top Award 2015 – final exhibition and awards ceremony in London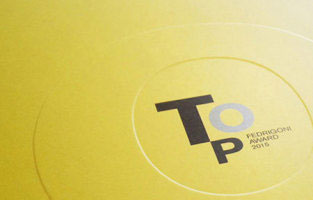 Fedrigoni Top Award 2015 is to reach London for the last leg of the ninth edition of the prize: the final exposure and recognition for the best international projects selected. This year, the closing ceremony will be held on the 12th of March at the Stationers' Hall.
Fedrigoni Top Award is an international prize – now at its ninth edition – inspired by the desire to narrate all the ways paper can be transformed and how this ductile and versatile material, thanks to the study and creativity of printers and designers, can become a book, a ticket, a game, a brochure or a package. The award is open to conventional and digital printing techniques and has five categories: Books, Corporate Publishing, Labels, Packaging and HP Indigo Digital Printing.
Once again this year, the Jury includes some of the best talent in the world of graphic design and publishing: Ginette Caron, Joost Grootens, Simon Esterson, Massimo Acanfora and Xavier Bas Baslé were welcomed to the historic head offices in Verona by Chiara Medioli, Fedrigoni Marketing Director, where they identified a short list of winners.