Fabio Perini S.p.A. presents its customer service 4.0 at MIAC
Gianfranco Agnusdei, Global Customer Service Director: "More efficiency and less costs. This is the objective of customer service: help our customers in preserving over time the value of their capital asset"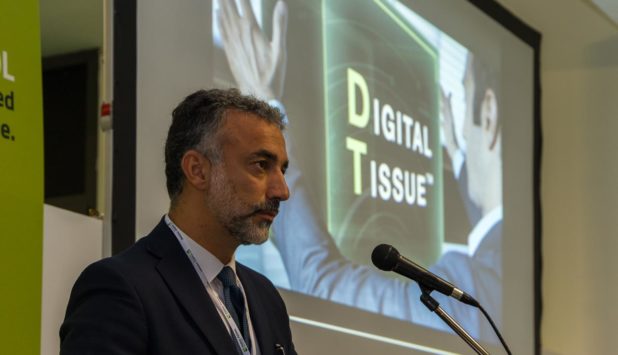 Fabio Perini S.p.A. took part in MIAC, where during the convention "Towards Converting Tissue 4.0" Gianfranco Agnusdei, Global Customer Service Director, disclosed the new company strategy and presented the best available technologies to enhance performances, quality and management of the production process.
"Industry 4.0 for our company has its own application even in customer service, – Gianfranco Agnusdei comments – a field where the use and analysis of production data, together with the technical expertise of Fabio Perini's people, allow customers to preserve over time the value of their capital asset and optimize the Overall Equipment Effectiveness (OEE) of their lines. Digital services are not limited to lines and systems supplied by Fabio Perini, but they can be used on equipment by other producers as well."
Three years ago, Fabio Perini launched its Customer Service Portal, which has evolved becoming the customers' digital touch point, with information on their installed base, the history of maintenance services, the suggested equipment modifications and a web shop for spare parts, placing orders directly online. Today the Portal becomes also the tool to activate and monitor line performance using two solutions, Tissue Data Cloud and Digital Shift Support.
The Tissue Data Cloud processes data based on a wide set of performance indicators, so as to offer the customer immediate visibility of the process critical points. Thanks to the Web Dashboard, the values of the line are re-elaborated easily and intuitively and available in real time for the production manager.
The second new feature is the Digital Shift Support, also activated from the Portal and available on the operator's tablet. The Digital Shift Support is a smart application that collects, together with a minimal set of performance indicators, the production speed and the justifications of alarms by the operators.
"Up to now our path has been going through digitalization, from equipment alarm detection to production indicators analysis, so as to identify inefficiencies and be able to act on specific line sections. – Agnusdei goes on – But we at Fabio Perini are firmly convinced that no digital revolution can exist without the technical know-how accrued in our 50-years-long experience. Our Customer Service 4.0 is all about this: an extraordinary integration between technical expertise and the availability of data supplied by digital solutions".
In fact, the availability of data and the expertise of Fabio Perini's technicians will allow to supply a real Digital Audit and remotely detect causes, establishing in advance actions to solve issues. In this framework, even the Wearable Glasses find their place: in its new "goggle" version, this technologic solution for remote, real-time technical assistance is more ergonomic and performing, with 3D interaction and Augmented Reality. For this device, too, the expertise of Fabio Perini's technicians is a key factor.