Valmet to introduce new aqua cooling calendering technology for board and paper machines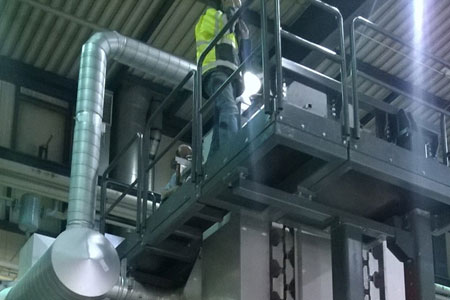 Valmet has launched a new and patented calendering technology to the market. The new aqua cooling technology improves the calendering results compared to usual paper production conditions. In most cases the best calendering results are achieved when the web is cool and stiff, like in pilot trials for example. With aqua cooling technology, pilot-type environment is brought to production-level, by cooling down the web before the calendering nip. This is enabled by applying a small amount of water with a moisturizer, and evaporating it with an air dryer.
Aqua cooling calendering is aimed for making the end-product more lightweight, without compromising functional and visual properties. This will lead to substantial reduction of energy and raw material usage. Aqua cooling calendering technology will complement Valmet's bulk-saving calendering offering, which includes the revolutionary metal belt calendering as the ultimate lightweighting solution. Valmet has a pilot machine with aqua cooling technology available for customer trials.
"Improving energy, water and raw material efficiency are the key targets in Valmet's research and development work. Our innovation in aqua cooling calendering technology is a good example of how we can improve the customer's product quality and raw material efficiency. With aqua cooling calendering technology it is possible to get almost half of the metal belt calendering benefits with significantly lower investment costs," says Mika Viljanmaa, Calendering Technology Development Manager from Valmet and 2012 Marcus Wallenberg Prize winner for his ground-breaking development of metal belt calendering technology.
First delivery to Stora Enso's Ingerois mill in Finland
Stora Enso has decided to invest in this new aqua cooling calendering technology at their BM 4 packaging board machine in Ingerois, Finland. The target of the rebuild is to improve board quality, while also increasing bulk saving potential. The rebuild includes new web moisturizing and evaporation cooling equipment. The rebuilt production line is scheduled to start up in September 2015. The order is included in Valmet's first quarter 2015 orders received. The value of the order will not be disclosed.
Information about the customer Stora Enso and the Ingerois mill
Stora Enso is the global rethinker of the paper, biomaterials, wood products and packaging industry. The company produces chemical pulp, paper and board, corrugated packaging and sawn wood products. The Ingerois Mill produces high-quality folding boxboard for consumer packaging needs such as food, confectionery and pharmaceutical products.