Smurfit Kappa's Shelf Smart drives 8% sales increase for leading FMCG brands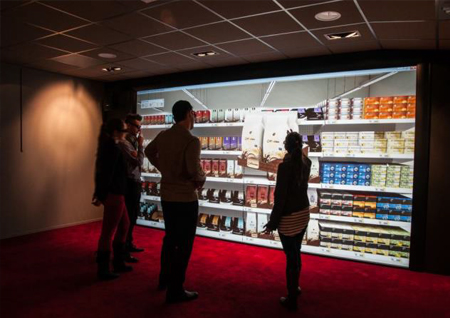 Smurfit Kappa's Shelf Smart service is revolutionising the impact of Shelf Ready Packaging (SRP) as a shopper marketing tool driving sales increases of up to eight percent for leading Fast Moving Consumer Goods (FMCG) brands, according to latest customer feedback.
The results, reported by brand managers that have partnered with Smurfit Kappa and used the Shelf Smart process to transform how they market their products on the shelf, are further supported by the company's own research. Over 50 tests, conducted across 11 categories and six countries, analysing the path-to-purchase behaviours of more than 10,000 shoppers, showed that Shelf Smart can help to drive double digit growth in brand visibility and perception. Demonstrating Smurfit Kappa's expertise and ingenuity, the findings prove that, with the right SRP approach, increases in purchasing intent of more than 10 percent are achievable on the shelf.
This extensive and ongoing research into shopper behaviour undertaken by Smurfit Kappa's innovation team – led out of its Global Experience Centre in Schiphol, Amsterdam – has provided a wealth of ground-breaking insights that have been incorporated back into the Shelf Smart process to further enhance its performance since it was launched just six months ago.
Shelf Smart was designed to improve FMCG customers' product performance in-store, where 82 percent of purchasing decisions are known to be made in an average of four seconds, according to the most up-to-date research*. It involves a six step process that deploys cutting-edge technologies in combination with Smurfit Kappa's unique packaging expertise, shopper insights, innovative designs and collaborative partnership approach, to test, refine and prove on-shelf shopper marketing strategies before they go live.
At the outset, insight tools such as Smurfit Kappa's Shelf Viewer technology – which compares the positioning and merchandising of up to 40,000 other products and placements – are harnessed alongside global design expertise to develop bespoke packaging solutions tailored to real-world challenges. An innovative 3D visualiser is then used to bring the idea to life in a risk-free virtual environment, before finally testing its impact on real shoppers using online eye-tracking tools developed in collaboration with high-tech partner EyeSee.
Part of Smurfit Kappa's relentless focus on saving customers time and money by making a packaging solution right before it is made real, Shelf Smart is the first service on the market to offer brands this kind of guaranteed optimisation. The whole process from problem definition to proven solution takes as little as six to eight weeks.
Arco Berkenbosch, Vice President Innovation and Development at Smurfit Kappa, comments: "Shelf Smart is shaking up the shopper marketing world: it's redefining how brands market their products, and proving just how powerful and measurable a marketing tool SRP can be. Smurfit Kappa is leading the way in partnering with brands to gain maximum disruption, exposure and ultimately sales. We're delighted but not surprised to hear such impressive sales results being achieved by FMCG customers already."
Smurfit Kappa's network of Experience Centres and the Shelf Smart service are prime examples of the company's strategy to 'Open the future' for customers, by delivering growth through insight and innovation. They exemplify Smurfit Kappa's wider commitment to maximising value for its customers, by developing proven packaging innovations that drive business success.
In the picture: Smurfit Kappa's 3D Store Visualiser