PCMC Italia boosts capacity with new plant
On October 12th, 2016, PCMC Italia S.p.A., part of the US multinational Barry-Wehmiller, inaugurated its new 14,000-m2 facilities in Fornaci di Barga.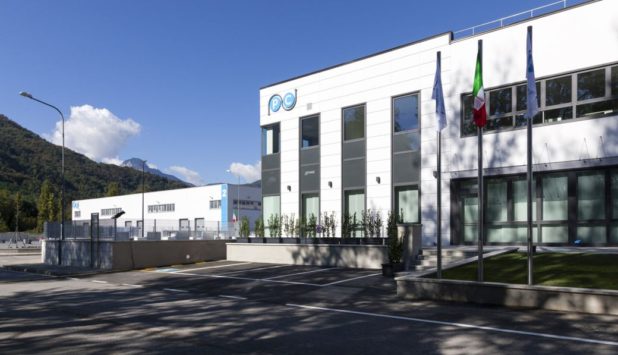 Spurred by the corporate motto "People Care Moves our Company", the inauguration ceremony was centred on the talents protagonists of PCMC's development throughout the years. An event dedicated to the about 500 people working in the company and their families, customers, guests coming from the world over, with a special focus on the young generations part of the PCMC family.
Sergio Casella, President of PCMC Italia, told TWM: "The grand opening of our new plant embodies also our corporate philosophy of measuring our success by the way we touch people's lives. Our goal has been to create a working environment where our people can really feel at home. They have been involved in many decisions on how to organise and set the new offices and production areas: those are now their buildings." The premises will allow check-outs of 4 complete converting lines simultaneously, for a production capacity of 36 lines per year, together with a space for the administration, production and sales departments.
Sergio Casella about the inauguration
An event focused particularly on children: "Children are the future. During our inauguration, they cut the blue ribbon at the beginning of the event, sending the message that PCMC and its customers are working together to guarantee a better future for them", added Casella.
The launch of the new plant is also an important step for the region itself: "PCMC is bringing life and hope again in an area where, due to the recent economic crisis, many companies have suffered and have been forced to move or close down," Casella said. "Our plant opening underscores the policy of the Barry-Wehmiller group to continue to invest in the territories where PCMC is located."
Together with the ribbon cutting ceremony, another inauguration took place: the street dedicated to William Austin Chapman, founder of Barry-Wehmiller, which will bear his name.
PCMC Italy is growing: strong of a turnover that exceeds 50 million euro and an expected 60-million euro for 2017, this year 20 complete converting lines were shipped around the world and more than 22 complete converting lines will be shipped in 2017.