More packaging power at Imatra mills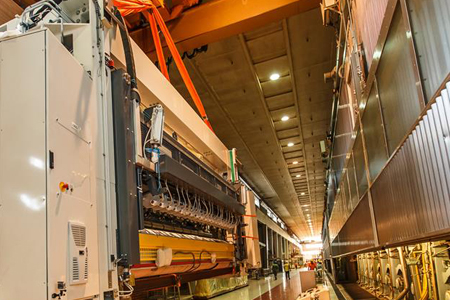 Last year, Stora Enso announced an investment of EUR 27 million to increase the capacity of Consumer Board Machine 5 at Imatra mills in Finland. The investment is now ready.
​In addition to a capacity increase of 20 000 tonnes, the investment also enables quality enhancements and cost-competitiveness in global markets.
"With the investment, we have anticipated the demands of our customers for their brands. The quality and capacity that we have now achieved will keep us on the cutting edge of the industry," says Marko Pekkola, Head of Operations Consumer Board.
"We're now able to produce more general packaging, like multipacks for yoghurt, as well as more liquid packaging board for the packaging of milk and juice, for example. The new production capacity goes to European and global markets," he continues.
The investment in the Tainionkoski unit was realised in two phases this year, one phase in June and the other in August/September during the mill's scheduled maintenance stoppage.
"Our customers are positive about this change, and we have worked in close cooperation with them. There were no breaks in our deliveries during the transition time," Pekkola says.
The investment required a fair amount of technical planning. The focus of the investment was on the coating part of the board machine and on modernising the winder and reel packaging section.  An experienced user group of mill employees were part of the practical planning. Some occupational health and safety factors were improved with the investment as well.
Imatra mills consist of two units, Kaukopää and Tainionkoski. The annual capacity of the mills is over one million tonnes of board and paper. The mills employ approximately 870 people, about 90 of them work at Tainionkoski.