The challenge of competitivity is investing in faster and more efficient napkins production lines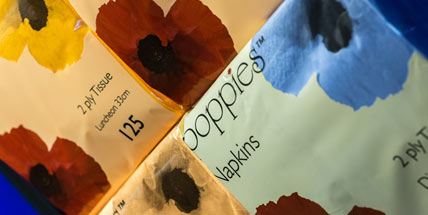 A brief interview with Armindo Marques, technical director of Poppies Europe Limited
Will you introduce us to the history of Poppies Europe Limited?
Poppies Europe LTD was initially set up in 1996 to fill a gap in the disposable table cover sector, primarily with Damask banqueting rolls. Over the years, we expanded our product range to cover the needs of the catering industry.
In 2000 we started the manufacturing of napkins with one production line. Since then we have continually invested in the napkin range which now has 16 dedicated lines. Last year, following feedback from our customers, we introduced the hygiene product range to create a one stop shop for catering disposables.
Today, Poppies Europe Limited has over 25 production lines operating 24 hours a day with 108 motivated members of staff from our factory based in St Helens in the North West of England, UK.
What is your core business?
Our core business is the production and distribution of disposable products for the catering industry (napkins, table covers, paper plates, plastic cutlery, hygiene rolls, etc.) where napkins are undoubtedly our best sellers in volumes.
We are mainly in the "Away from Home" market with a strong network of customers ranking from small independent wholesalers, to national distributors and blue chip corporations. Nevertheless, increase our share of the retail market is part of our strategic development in the years to come.
What are the main trends of today's tissue converting market in your country?
The UK tissue market has always been very competitive in price, especially for the napkins. But on top of the price pressure the trend is now going to increasingly shorter delivery times. Availability of stock is the key to success. Our strategy is to constantly monitor the cost of our raw material and invest in more efficient equipment to offer a quicker delivery time while maintaining a high quality product.
In 2012 to strengthen our market position we acquired one of our competitors, McNulty Wray LTD who were the bespoke printed napkin experts in the UK. By doing so we have enhanced our service and are now the UK leaders in the printed napkin sector.
Our marketing strategy is now focused on developing our three brands; PoppiesTM  – that covers the mainstream plain products; cNulty Wray –  for the bespoke printed napkins; Poppysoft – for the hygiene range.
How do you describe the tissue market in your country?
The UK tissue market seems to have reached maturity in a very competitive environment that maintains a high pressure on prices. That situation drives us to always invest in faster and more efficient production lines.
What do you do to stay competitive in your specific market?
When we started producing napkins, 400 m/min was fast. With our last 3 OMET's TV 503 Lines, we are approaching the 600 m/min and truly can't wait for the day that Sergio will ring me saying "Armindo our new TV model is running at 800m/min!". OMET Engineers the pressure is on you!"
What made you decide to invest in OMET's machines and what is your evaluation of OMET's equipment?
Simple: OMET is the best all-rounder machine as far as napkin production is concerned. And efficiency is embedded in their DNA. That's what I appreciate the most.
How do you judge the relationship with OMET Company and staff and what are the expected developments of this partnership for the future?
Over the years we have built up a strong relationship centred on a mutual trust. Everyone that I have dealt with at OMET is extremely professional and friendly. I have to mention here Sergio Villa, whom I have known for years. He has always been passionate about our industry. he future between Poppies and OMET is bright, as we are in the final stages of closing a deal for 3 new OMET production lines for 2015.