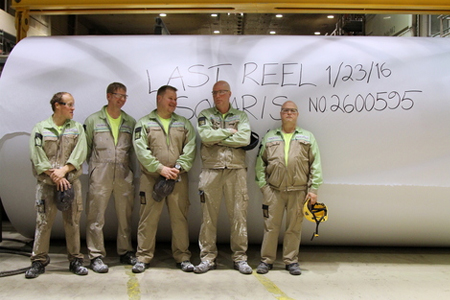 The Solaris® era was finished in style on Saturday morning January 23rd, 2016, as the last reel of Solaris® printing paper was produced on PM2 at Kotkamills Oy. The moment was nostalgic for many of the employees who have played an important role in the manufacture of Solaris® over the decades. Since May 1987, PM2 has produced 3,5 Million tons of Solaris® that has been used for magazines, leaflets, catalogues, supplements and exercise books in nearly 100 different customer countries globally.
Despite the nostalgic occasion the future of Kotkamills is bright. The printing paper machine will be replaced by a modern board machine using the latest technology and will produce recyclable, repulpable and renewable Folding Boxboard and Barrier Board grades. After the demolition of PM2 , the installation work of the new Board Machine (BM2) will be started, and the first reels of Kotkamills' Consumer Boards will be available for customers after the Midsummer of 2016.
In the picture: The night shift of January 23rd, 2016 produced the last reel of Solaris®. From left: Tommi Katajala, Veijo Metsola, Jarkko Ylärakkola, Arto Melto and Pauno Rantala.