Fibria ends 2015 with new records for net revenue, Ebitda and cash generation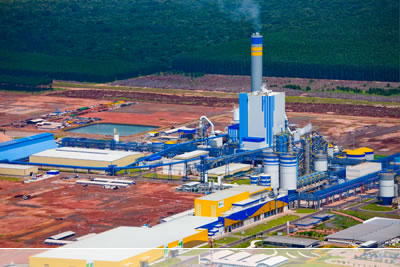 Fibria, a Brazilian forestry company and the world's leading eucalyptus pulp producer, reported net revenue of R$10.1 billion in 2015, which advanced 42% on 2014 to set a new record for a 12-month period. In the fourth quarter of 2015, net revenue came to R$3 billion, advancing 7% on the prior quarter.
Another record for a 12-month period, adjusted EBITDA (earnings before, interest, taxes, depreciation and amortization) amounted to R$5.3 billion, increasing 91% from 2014. In the fourth quarter, adjusted EBITDA was R$1.6 billion, increasing 5% on the prior quarter. EBITDA margin in 2015 stood at 53%, also setting a new record for the company's economic performance.
Another highlight in the company's results was the robust growth of 351% in free cash generation in 2015 to a record R$2.9 billion, with this figure excluding the dividend distributions, the investment (capital expenditure) in the Horizonte 2 Project to expand capacity at the Três Lagoas Unit in Mato Grosso do Sul and the land acquisitions made at the end of the year. Of this amount, R$866 million was generated in the last quarter of the year.
"The year 2015 represents a new phase in our history, with important strategic decisions taken that will take us to a new level of competitiveness and boost our operating capacity. With the Horizonte 2 Project, which is advancing on schedule, we will further expand our global leadership in the pulp industry," said Fibria CEO Marcelo Castelli.
In 2015, Fibria reported net income of R$357 million, mainly owing to its strong operating performance and despite this figure being partially offset by the noncash impact from exchange variation on its financial result, which was not a factor in periods of stability in the local currency. Fibria's management proposed the distribution of 87% of net income in 2015 as dividends to shareholders, which amounts to R$300 million, with the proposal to be submitted to the next Shareholders' Meeting that will be held in April.
The proposed distribution of R$300 million in dividends, which includes R$218.7 million in additional dividends over the mandatory minimum of R$81.3 million, is based on the dividend policy launched in 2015, which calls for the possible payment of additional remuneration to shareholders throughout the year if cash generation exceeds the projected scenarios, always observing the Debt and Liquidity policies and its commitment to maintaining an investment grade credit rating.
Fibria ended 2015 with net debt in U.S. dollar of US$2.8 billion. Leverage measured by the ratio of net debt to EBITDA in U.S. dollar ended the period at 1.78 times, which is below the limit set by the company's Financial Policy