Burgo Villorba paper mill, winder rebuidling
Main drive and automation control system rebuilding of a winder at Burgo Villorba Paper Mill. Sael company replaced the machine Teleset systems, Telebock, Lds and Plr within 15 days.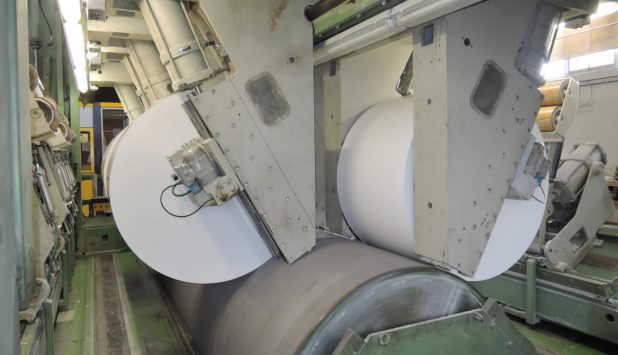 The two-steps revamping, started on 2015 by rebuilding the old drives, is now completed. The good results got in the 1st step of the project, pushed this 2nd step on 2017 working on the knives positioning system (Teleset system), the arms (Teleblock system), the coils press curves programming system (Lds system) and the Man Machine Interface programming (Plr system).
The main focus of the project was the elimination of the obsolete components as well as the sensors who are the solid base of the system, like the unavailable TVK absolute encoders. "At SAEL we worked on this topic several times, so it was a bread and butter mission for us", said Paolo Andrighetti of SAEL.
The target was to provide a new integrated DCS Supervisor-Plc system, replacing the old Teleset-Telebock-Lds-Plr, capable to manage all the process. Also, the old main user electrical cabinet has been replaced and integrated into the new system with ET200 – on pre-assembled plates. The old inverters were replaced too, by the new SAEL ONE Drive profibus inverters.
To integrate the motors cabinet, Sael worked on a same solution using its ONE-REBORN Platform controlled by a profibus ONE-MasterCard. In this way, Sael stepped out all the boards, serial cables originally used for the interconnections. To achieve the goal a new control system was built.
The system architecture is based on 40 nodes new profibus network.
Over the time and the experience, SAEL supervisor system, today also encloses Engineering Station functions, which allows programming either the Plc or the Drive. IWSA "Internet Worldwide Sael Assistance", is the real time remote management. This amazing tool, fully open source thanks to its Windows basis, allows any kind of assistance, programming, re-programming, adjustment job on remote assistance. It is possible to set up the SAEL boards, the SAEL Drives, develop or modify Plc SW, and many other functions.