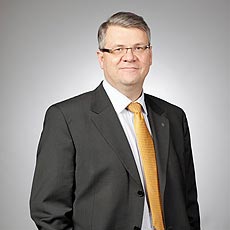 Jussi Pesonen, President and CEO:
"The year was the first full year of operation for UPM's new business structure. The structure – based on six business areas – brought clarity and focus to implementing UPM's agenda for each of the businesses. It sharpened our operations in the customer interface. At the same time, we were able to carry out the short term profitability improvement programme in an efficient manner. Target savings of EUR 200 million were achieved earlier than expected and a new target of EUR 150 million was set for the year 2015.
In addition the growth projects progressed well during the year: The Lappeenranta biorefinery started commercial production of advanced renewable diesel in Finland in the beginning of January 2015 – a historic mile-stone after eight years of R&D, piloting and construction.
The pulp expansion projects progressed in Finland and in Uruguay, and investments were made in labelling materials, woodfree speciality paper and self-adhesive labels in China and Poland. Through these projects, we target an EBITDA impact of EUR 200 million. The projects will be completed in 2015 and we expect to see the first financial results of the growth projects as the year progresses.
Good earnings momentum in 2014
UPM showed good performance throughout 2014. Our operating profit improved by 24% year-on-year thanks to the successful profit improvement actions. Return on equity excluding special items was 8.3% for the full year and cash flow per share was EUR 2.33.
I'm especially pleased with our excellent cash flow. Following the consistently strong cash flow, our balance sheet at the end of 2014 was the strongest ever in the company's history. We were able to reduce our net debt by EUR 639 million through the course of the year
All six UPM businesses performed well in 2014 and four of them reached or exceeded their long-term return targets. UPM Plywood, UPM Energy and UPM Paper Asia deserve special recognition for consistent improvement and strong results. Thanks to cost savings, UPM Paper ENA (Europe & North America) also succeeded in improving profitability and generating strong cash flow in very difficult market conditions. UPM Biorefining's profitability was impacted by lower hardwood pulp prices, but benefited from improved efficiency in production. UPM
Raflatac showed volume growth and stable results, but did not fully reach its market potential.
UPM's Board of Directors decided on a new dividend policy targeting an attractive dividend of 30–40% of UPM operating cash flow per share. Based on this policy, the board's proposal for the 2014 dividend is EUR 0.70 per share.
The proposal indicates confidence in UPM's stable outlook and its ability to continue on its
journey of transformation. Overall, the company performance has progressed as planned and I would like to thank all UPM employees for a good 2014″.
In the picture: Jussi Pesonen, President and CEO of UPM.