Ten years after Cyclone Gudrun – forestry balance has been restored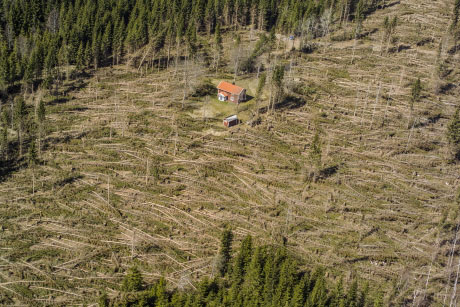 In January 2005, Cyclone Gudrun swept over Götaland in southern Sweden, felling about 200 million trees, or 75 million cubic metres of wood, in the process. Today, 10 years later, the forest's balance has been restored. "Replanting has continued apace and forest regeneration of the storm clearings has been satisfactory," explained Göran Örlander, Head of Forest Management at Södra.
On the night between 8-9 January 2005, Cyclone Gudrun swept across southern Sweden. Wind speeds of up to 33 m/s were registered in Småland, causing enormous damage to Södra members' forest estates. At the storm's peak, 415,000 households were without electricity and several communities were cut off.
"It was only after we had spent a few days performing an inventory that we fully understood the extent of the damage to our members' forests. Many of us were shocked to discover the huge losses sustained by the forest in the storm and, at Södra, this entailed an entirely new way of working to help our members recover," remarked Örlander.
Following intensive and large-scale efforts to process the trees felled by the cyclone, Södra simultaneously stored more than 10 million cubic metres of storm-felled timber at terminals and mills and on roadways. The last of the terminal stocks of storm-felled timber were collected from the Asige terminal in Halland in late November 2009. And two days before Christmas Eve in 2009, the last of the logs that were felled in the storm were sawn at Södra's Värö sawmill.
"In hindsight, we can conclude that the damage was not as bad as we first feared," added Örlander. "We were enormously lucky in terms of the weather. It was also significant that insect populations were low in early 2005, which meant that the felled trees were not damaged. We can also see that the young forests are growing well in the clearings that we have replanted."
Among Södra's members, an estimated 40 million cubic metres of timber were blown over, which was equivalent to about four annual harvests at the time.