Södra's trucks and site machinery to become fossil-free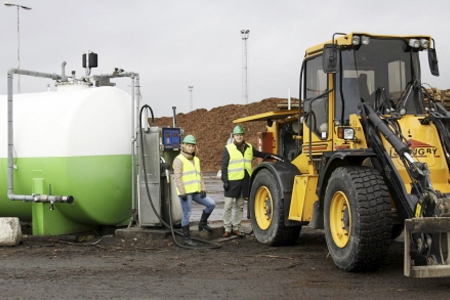 Södra has decided to use HVO* to fuel the Group's trucks and site machinery. HVO is a biofuel and a climate-smart alternative to fossil diesel.
HVO is a fuel that is suitable for all types of diesel engines and can be used in exactly the same way as fossil diesel. Södra's HVO is mainly sourced from abattoir trimmings and residual products from rapeseed oil and sunflower oil, thus classifying it as a next-generation biofuel*.
"In terms of its environmental credentials, it is superior because it is 100-percent fossil-free, meaning that it is entirely renewable and has a significantly lower greenhouse gas footprint," says Henrik Brodin, Purchaser at Södra.  Because the biofuel can be produced from a variety of oils, our agreements with partners include a provision requiring certification of origin and traceability of the raw material. "The traceability of fossil-free fuels is far superior to their fossil counterparts, and we have a clear policy that we do not permit the use of palm oil. This is something that Södra strongly renounces," says Henrik Brodin.
At present, Södra fuels several of its vehicles with rapeseed oil methyl ester (RME), a bio-based renewable fuel. When it was introduced in 2012, it was the first step on the path to becoming fossil-fuel free. Now it is time to take the next step with a fuel that enables a larger share of the vehicle fleet to make the transition. "Unlike RME, HVO is identical to fossil diesel, which is a clear advantage for the engines. It is a better alternative, both at an overall economic level and environmentally," says Åsa Forss, Manager of Södra's wood-chip trucks. Södra is currently in a start-up phase, with the ambition that all three of the mills' vehicle fleets will use the fuel and 90 percent of the Södra Group's diesel tanks will be filled with the new fuel in the near future. The fuel has been tested over the past year at Södra's Flåboda nursery and Södra's Värö pulp mill as part of a pilot project. The results have been highly favourable and Södra now wants to move forward with the product and implement it on a broad front.
* hydrotreated vegetable oil
* Next-generation biofuels are biofuels made from residual products that do not complete with food crops.