OCME is "LEGOlizzato" by the University of Nottingham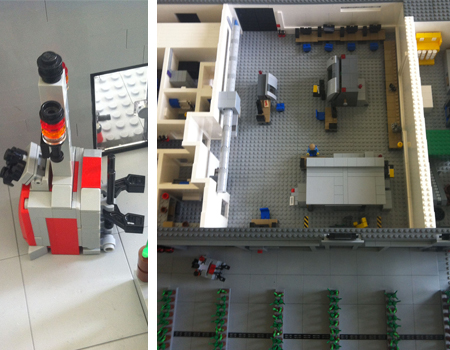 OCME, a world leading company based in Parma, designs, manufactures and installs technology for the filling, packaging, palletising and handling of products in the FMCG sectors. OCME machines are the result of decades of experience and become the very backbone of its clients manufacturing process.
Increasing a plant's ability to locate and absorb water and nutrients through its roots could potentially lead to bigger and better crop yields.
This is the theory behind a research project supported by the European Union at the University of Nottingham, England, where an OCME Auriga 15PS, has supported researchers with the handling of plant pots in a confined space.
The Auriga 15 PS is a laser guided vehicle that combines the ability to carry loads while maintaining a very compact size, low power consumption and the possibility to manage flexible pathways with very high precision.
The University of Nottingham is working on several projects with OCME's AURIGA and have recently developed an amazing video with the vehicle made of LEGO!
This stop frame animation uses lego models to show the operation of the research project at the University.
The project uses scanning technology: advanced X-ray micro Computed Tomography, to study plant roots and understand how they can be improved to interact with soil and capture water and nutrients more efficiently.
The film was made by two students, Bill and Ed during the year, the lego model was made and is owned by the University.