KPA Unicon to deliver biomass-fired steam boiler plant to Cartulinas CMPC carton board mill in Valdivia, Chile
Cartulinas CMPC S.A. and KPA Unicon Oy have signed a contract for the delivery of Unicon Biograte 30 t/h steam boiler plant to Cartulinas Valdivia Mill in Valdivia, Chile.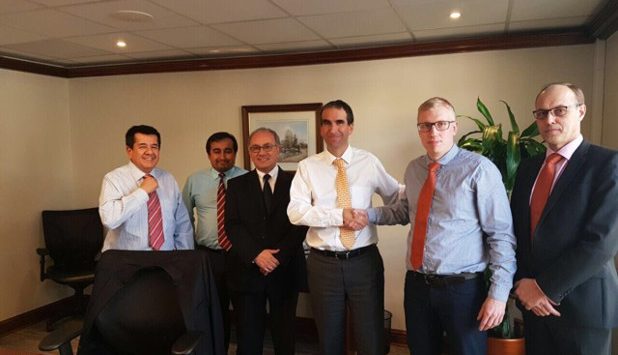 In addition to wood chips, bark and sawdust, the plant operates on bio sludge and it produces steam for the mills carton board production process. The plant will be started up for operation in December 2018.
The contract covers all process equipment, buildings, installation supervision, commissioning and training of operating personnel. The heart of the plant is Unicon Biograte combustion technology, which is specifically designed to utilize challenging biofuels for energy production with high efficiency and low emissions.
The plant is also equipped with KPA Unicon's PlantSys system for local and remote control. PlantSys collects data from the process equipment and makes operation of the plant easy and reliable. It also visualizes the data in easily understandable format. PlantSys also enables a secure remote access to the plant to optimize the parameters and predict the future service and maintenance needs.
KPA Unicon will also take care of the maintenance of the plant as the parties have agreed on a 5 years maintenance contract. In addition to spare parts and local maintenance activities, the contract includes remote support service from KPA Unicon control room.
Jorge Aldana about the project
"After a comprehensive project survey Cartulinas CMPC decided, that KPA Unicon is the right choice to supply the boiler plant. The most important technological factors are efficiency and low emissions. The plant can use various kinds of biomass even with high moisture contents. Our expectation is to achieve a plant with the best standards of the market, complemented with an efficient layout and a modern building. In summary, this must be a project of excellence. Therefore, I look forward to cooperating with KPA Unicon and getting the boiler plant started up in December 2018," says Jorge Aldana, Industrial Development and Projects Director of CMPC.
"This contract opens the Latin American market for us. We are extremely proud to take this important step together with a world class company such as CMPC. We are confident that this boiler plant will fulfill all the client's requirements and exceeds them. This project is a good example of how challenging biofuel can be used to achieve high efficiency and low emission levels. These values are very important for CMPC and also work as guidelines for us during the project execution", says Pentti Savolainen, Project Development Director, KPA Unicon.